Hi @MohammedFaisal,
Did you check these UI feature request. They are just front-end UI changes.
Apologies for the delay in response.
We've noted your UI fixes, some of them are already on the to-do. The rest are being discussed.
Will update on the progress here.
Thanks for the quick response.
eagerly waiting for the updated app with fingers crossed.
One more in the line.
"add to basket from the Ordering window(BUY/SELL window)" So this will get add to basket instead of getting executed.
Please explain how Lottery based allottment for IPOs is done in case of oversubscription. I think they should have some sort of parameters for the lottery system. Eg. If all subscribers are given nos., then they would probably define a series for nos. like fibonacci , multiples of 2,4, 6etc. This transparency is lacking in the news paper basis of allotment. I had applied for more than 10 IPOs and alloted only thrice.
Nithin sir , Tagging feature is excellent. One humble request here. If possible, keep the tags 'null ' for each trades. If I select one tag ,it defaults for all trades. We can change it , but it would be nice if you keep it to 'null 'to begin with.
Woah ! . Good going for anniversary

You are tagging an order and it tags all the underlying trades is what you are saying?
@TheGouda + +
Not the underlying trades. I am talking about live order window. Not tags in console.
When I choose a tag in the order window , before executing the order… that same tag stays there in the order window for all other trades in a day, unless I manually change it. It's not a bug or anything. But it makes a little inconvenience, when looking through PnL page.
Ah. Having a tag remain there helps those whose next trade is the same tag and also remember what was tagged in the previous order. Let me bounce this off with our team.
Hey, all selections can be removed easily with one click.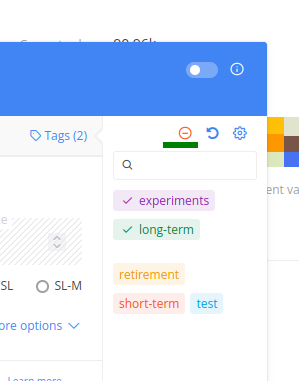 No bank or financial institution will give you loan to trade in capital markets.
From partners? Yes. Why not.
Derivatives are levered products already. Why take loan and add further leverage. Some level of leverage is good but too much can be too bad. Avoid loan.
just for information.
it isn't illegal to use funds taken as loan from banks, partners or others ?
Are there any chance on improving the UI on the option chain ?

Can there be a detailed module on trading and investment through individual, partnership, LLP and private limited company, (NBFC licence if required)
_ legal requirements
_ requirements
_ pro
_ con
no offense but really? that's all you have to say? a one liner…
is this sensibull chain you are referring to?
"I'm a novice trying to make ends meet. How can I compete with such knowledgeable individuals here?"
"The Zerodha platform's option chain wasn't as user-friendly"
"So just wanted to check whether it's only me or even other people feels the same"
Why should I struggle when fellow traders have already asked so many relevant questions?