Hi, is it possible to get zinc mar 2017 contract data in 15m or 30 m tf now?
Hello @mohitkapila
15 min and 30 min data for expired commodity contracts is unavailable.
You can find contract data from the Bhavcopy which will only give you the end of the day price data.
The data available in the Bhavcopy is -
Date|Commodity|Expiry Date|Open|High|Low|Close|PCP|Volume (Lots)|Volume (000's)|Value (Lakhs)|OI (Lots)
You will find the Commodity Bhavcopy from this MCX India link.
Here is a screenshot of the Bhavcopy for Zinc Future March expiry for the month of march -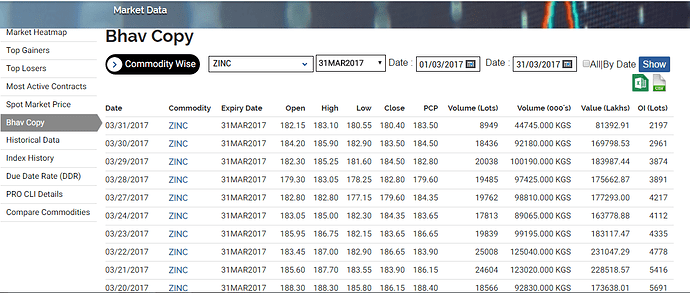 ok thank you