Anyone using 24 or 27 inch monitor?. Please share kite webpage screenshot to see how it looks.
Resolution also matters. 1080p 27 will probably look terrible for text and 4k might be overkill. I am also thinking about changing monitors ( from ~10year old 1080 21'').
rtings might be useful to get some idea.
I am using 32 inch 4k , kite works fine with a plugin in chrome
I need to see the web page look. Extra plug ins i dont want. If extra size doesn't fit, ill go for 22. Thats why asking, anyone using. 24 27 in particular.
Send screenshot of kite web page bro…

Extra plug in is fitting the screen right? Or else lot of free space appears?
Yes, extra plugin does magic otherwise free space
Share the plug in. So do yoi recommend to go for large sizes?
I use a three screen setup…


1 one is the 31.5 inch monitor the next two are 24 inch.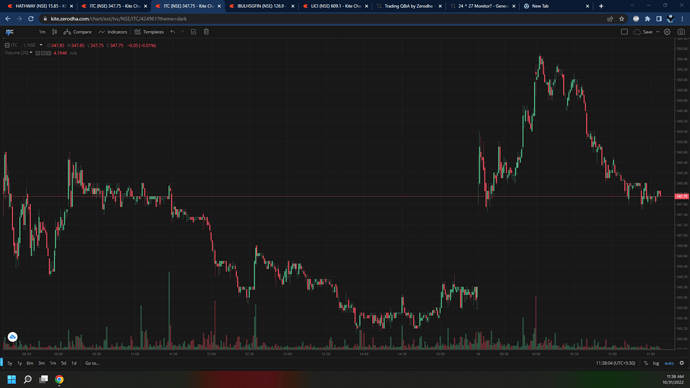 This is 24 inch 1920x1080p monitor.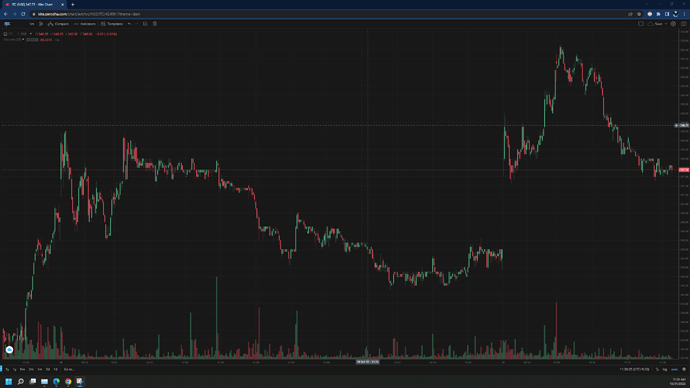 This one is 31.5 inch Quad HD monitor 2560x1440p and it pack's more real state and for me it's great. I also plan to add 2 more of these monitors but 4k ones (at end of this FY possibly)
Also for multiple charts this one is better than the 24 inch screens. Also if you go for the 4k one's at these size, the multiple chart layout would be even better.

Anything above 1080p is great, (for 24inch screen 1080p is nice) however the screen size also matters so if you are going over 24 inch I would suggest you go over quad HD that is 4k. Getting xtra info, on that big screen helps and if you don't find it comfortable you can always downscale the resolution. However if you get a lower resolution monitor, though it is cheaper, it may be great for other stuff but for us traders its shit and quality of chart an stuff is very blurry.
Also if you are getting multiple monitors, I would suggest you buy all of them of same model and brand. Also don't cheap out on the resolution. Below 24inch 1920x1080p is must while for 24-32 inch 2560x1440p is must but if you can, then go for the 4k one's. 60hz is fine for trading but if you go above that it is only beneficial for media consumption and gaming.
@Gautam Thanks for exceptional details



Bro which brand's monitors are you using? Is Acer a good brand? I plan to buy a 32 inch but lot of people are having issue with Acer brand. Could you please tell which is best as per you.
My budget is max 20k, shall I get a 27 inch or 32 inch I am not sure.
Thank You

Acer is good, Benq is good, Samsung is good, unless we buy a fake monitor, any monitor from a big company is good. Of course certain models may not fare well, that happens.
Also, what we want in a monitor is important, is it for reading, is it for watching, or gaming etc, so you can read reviews accordingly and come to a conclusion.
And obviously these being machines, even if from a big company, even if a successful model, praised by many, our item may not work properly, so there is always the possibility of returning it, getting it replaced or serviced if still under warranty etc.
Read as much as possible to clear your doubts though.
All my monitors are different brand - 32/LG, 24/Dell/Benq. (Earlier I have used Samsung and Hp both good)
Acer is cheap but personally I would go for it as the last resort.
Whichever monitor you get 27 or 32 please don't buy the 1920x1080p one go for higher resolution for those screen size preferably 2560 x 1440 (QHD) or higher meaning 4k - 3840 x 2160.
Your price does seem to be the issue at this time since I can't find good options below 20k which were available earlier. If you increase your budget by 2k you could buy Dell monitors which are excellent and come with 5 years warranty at the moment.
Or better still, since you are budget conscious, for your budget you could buy two 24inch 1920x1080p monitors and still have few k's to spare. The 32inch monitors are classy but 24inch monitors are still great for trading and work purposes.
I would suggest you to visit offline retailers and check out the pricing before deciding.

Update : - Acer 31.5 inch 2560x1440 is available @16999 with 3 year onsite warranty, for the price point you can go for it, but please check with offline retailers as well…
for monitors, don't go by resolution. Search by pixel density (~150ppi)
if your room is bright (like to work with the windows open), at least 400nits.
Higher the resolution higher the pixel density. A higher resolution signifies the picture contains more pixels.
It can display more visual information.
Nope, larger size reduces pixel density and makes even 4k monitors look like garbage
pixel density may not matter for tv as the viewing distance is large. On a monitor, it will look like you are playing with rgb legos
That's why larger size requires higher resolution.
Pixel density increases with higher resolution. That's why if one is purchasing 27 or 32 inch monitor it is better to purchase one with higher resolution like UHD.