"Learn continually - there's always 'one more thing' to learn!" - Steve Jobs.
Life is a learning process. We always have something or the other to learn. It is up to us whether we tune our minds to learn and evolve or not to take any lesson from what life teaches us.
Since the outbreak of the COVID-19 pandemic, life changed for many of us. It exposed us to hard times – emotionally and financially. Several people lost their jobs, earning capacity slowed, and some, unfortunately, had to withstand steep bills with near and dear ones being hospitalised.
Two years hence, while we are in a slightly better position with a majority of the population vaccinated, the risk of a fourth wave (as what many other countries are witnessing) now haunts us. No one surely knows when the pandemic will end.
Apart from that, spiralling inflation, ever since Russia's invasion of Ukraine, has been another problem to deal with. Even basics such as prices of food items, fuel, cooking gas, clothing & footwear, household goods & services, among others, have made life difficult for the common man. Inflation is surely eroding the purchasing power of hard-earned money, and those depending on bank fixed deposits and small saving schemes are unable to counter inflation, given the low nominal returns on these investment avenues.
That said, here are some lessons on investing and money management that these tough times teach us:
Lesson #1: Respect and utilise your hard-earned money wisely
You would agree that earning capacity could vary or flicker. Hence, when times are good, respect your hard-earned money. Focus on saving money by engaging in a prudent budgeting exercise and subscribing to the idea of delayed gratification.
In this regard, follow the words of wisdom, "Don't save what is left after spending; spend what is left after saving," by legendary investor Warren Buffett. This is particularly important if you are earning a variable or fluctuating income.
You don't need to spend money to show how well placed you're in life. "Spending money to show people how much money you have is the fastest way to have less money," shares Morgan Housel in his book, The Psychology of Money. Spend only on things you really need and do so rationally by sticking to a budget. Instead focus on saving and investing wisely to accomplish your goals such as buying a dream home, providing the best education to children, and your retirement among a host of others.
Lesson #2: Hold an Emergency Fund
As life is full of surprises, both the pleasant and the unpleasant ones, we need to plan well for the latter. We never know what the future has in store for us. Thus, make sure you hold an adequate Emergency Fund, also known as a contingency fund or rainy-day fund.
Very broadly, the sacred formula that can be followed to build an Emergency Fund is:

So, if your monthly regular unavoidable expenses are Rs 40,000 per month, going by the above formula, your Emergency Fund should be Rs 40,000 x 24 months = Rs 9.6 lakh, on the higher side.
This is also the secret formula followed by Ajit Dayal, the Founder of Quantum Mutual Fund while managing his own personal finances.
The emergency fund could be parked in a separate savings account (other than the one linked to your investments), a Liquid Fund, and/or short-term deposits. Do not commit the mistake of parking your emergency fund in equity markets, as the safety of your money is the primary objective, and not clocking higher returns.
Lesson #3: Invest Money Sensibly
"How many millionaires do you know who have become wealthy by investing in savings accounts? I rest my case," says Robert G. Allen, one of the best-selling authors on personal finance and an influential investment advisor. To clock high returns, saving hard-earned alone will not help you, nor will it counter inflation.
You need to deploy your savings in productive investment avenues whereby money works for you (i.e. earns a rate of return) and generates wealth. Moreover, the investments need to be well aligned with your envisioned financial goal.
Say, you are planning for your child's higher education needs, which is around 10 years from now, you could choose a mix of an Equity Fund of Fund (around 70% of your entire equity portfolio), 15% in ESG Fund, 15% in Value Fund, and 20% in Gold ETF. And when you are less than 3 years away from the goal, shift the money from equity schemes into a liquid fund and/or bank fixed deposit.
By setting your asset allocation suitably, it would serve as a strategy and possibly balance the risk-reward. Do not simply get swayed to an asset class based on the past returns. Likewise, it would be imprudent to avoid investing in equities altogether, particularly when you have long-term financial goals to fulfil. Given that the nominal rate of returns on bank FDs and small saving instruments are low and inflation is playing a spoiler, the fact is, even retirees or senior citizens must consider holding a small portion (around 20%-25% of the overall investment portfolio) in equities considering their risk appetite and liquidity needs.
To build a portfolio of, typically your core mutual fund holdings portfolio) should ideally comprise of a Value Fund, an Equity Fund of Fund that invests in other funds chosen after qualitative and quantitative research, and an ESG Fund that filters companies based on Environmental, Social and Governance parameters… This shall help you benefit from the best of both worlds, i.e. long-term steady returns and short-term high-rewarding opportunities.
If you are finding the equity markets volatile, or when they are at a peak at the time of investing, stagger your equity investments or take the Systematic Investment Plan (SIP) route.
"Successful investing is about managing risk, not avoiding it," said Benjamin Graham (the father of value investing).
And after you have invested, make it a point to timely and scientific portfolio review (preferably seeking the services of a proficient investment advisor).
Lesson #4: Hold Optimal Cash Level and Tactically Allocate to Gold
Keep in mind that cash is king! It is essential to hold adequate cash levels, neither too much nor too little. Park this money in a separate savings account rather than keep it home vulnerable to the possibility of theft. The money in the saving account could be utilised to handle daily expenses, a medical emergency in the family, as well as invest a lump sum when the markets give you the opportunity at mouth-watering levels.
Notwithstanding the above, consider holding some gold tactically (around 20% of your entire portfolio). This can be held in the form of Gold ETFs, Gold Savings Fund, and/or Sovereign Gold Bonds (SGBs) –– the smart avenues to invest in gold.
Graph: Gold has proved its worth as an effective portfolio diversifier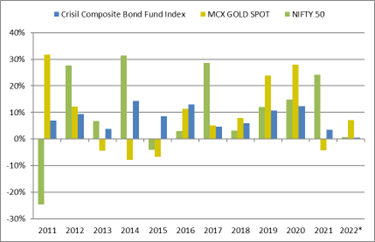 Data as of March 31, 2022
(Source: ACE MF,)
The graph above is a testimony of gold proving to be a portfolio diversifier in years when uncertainty surrounds the world and equity and debt fail to reward investors well. But when approaching gold, keep a fairly long investment time horizon (of around 7-8 years) and be ready to assume moderately high risk.
Lesson #5: Hold an optimal insurance cover
In the present day and age, we are exposed to a high level of stress. Besides, given the lifestyle we lead, we are vulnerable to some or other diseases. Given this and medical inflation is on the rise, optimal health insurance coverage cannot be ignored. Otherwise, you would have to utilise investment perhaps assigned for vital financial goals.
Happy Investing!
Disclaimer: The views expressed here in this Article / Video are for general information and reading purpose only and do not constitute any guidelines and recommendations on any course of action to be followed by the reader. Quantum AMC / Quantum Mutual Fund is not guaranteeing / offering / communicating any indicative yield on investments made in the scheme(s). The views are not meant to serve as a professional guide / investment advice / intended to be an offer or solicitation for the purchase or sale of any financial product or instrument or mutual fund units for the reader. The Article / Video has been prepared on the basis of publicly available information, internally developed data and other sources believed to be reliable. Whilst no action has been solicited based upon the information provided herein, due care has been taken to ensure that the facts are accurate and views given are fair and reasonable as on date. Readers of the Article / Video should rely on information/data arising out of their own investigations and advised to seek independent professional advice and arrive at an informed decision before making any investments. None of the Quantum Advisors, Quantum AMC, Quantum Trustee or Quantum Mutual Fund, their Affiliates or Representative shall be liable for any direct, indirect, special, incidental, consequential, punitive or exemplary losses or damages including lost profits arising in any way on account of any action taken basis the data / information / views provided in the Article / video.
Mutual Fund investments are subject to market risks, read all scheme related documents carefully.