A Systematic Country Diagnostic (SCD) is an analytical exercise taken by The World Bank to identify the challenges and opportunities of countries. Recently The World Bank undertook a diagnostic of India and here are the highlights from the draft report.
The report says that for India is poised to tradition to a country with a higher level of prosperity. If India wants a global middle class that can fulfill aspirations such as safe and affordable housing, health care, education, clean water, sanitation facilities, reliable electricity, a safe environment, and discretionary income to spend on leisure pursuits it has to grow at a rate of 8% for the next 3 decades.
1) Growth and poverty alleviation
India has grown to be a middle-income country. The average per capita GDP which stood at US$440 in the early 2000's stood at US$1,700 as of 2016.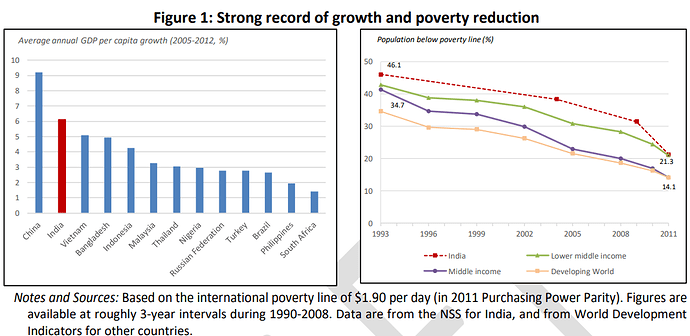 This is also the period during which the share of Agriculture in the Indian GDP fell from 18% in the 90s to 11% in 2016. The share of services in the GDP rose from 40% to 52% during the same period.
The poverty growth rate has decelerated from 8.8 percent a year during 2003-08 to 7% since 2009.
2) Abundance of labor and scarcity of natural resources


The report makes a prescient comparison between the resource availability in China in India. China has a Per capita GDP of $6000 compared to $1700 of India. it has has twice as much as water per person compared to India. In spite of this the report found that India uses more water on land "equipped for irrigation" than any other country in the world.
The implication: for India to achieve a higher per capita GDP, it needs to use fixed resources much more productively. Indeed, simple arithmetic indicates that, to reach China's per capita GDP, each unit of land in India would need to generate four times more GDP than it does now.

Since China cultivates a smaller area of land (150 million hectares) than India (166 million hectares) but produces more aggregate farm output, India needs to accelerate its productivity to catch up and then overtake the productivity of the other BRICS just to meet the same per capita output.And the water used for irrigation (688 bm3 ) in India would need to produce five times more agricultural GDP to achieve China's water productivity in agriculture.