In the latest update to Kite mobile (version: 3.1.3), we have added an additional toggle in the settings - Accessibility mode to make it easier for our visually impaired clients to use Kite. This mode makes Kite more compatible with the Talkback/VoiceOver apps.
You can enable it by turning the mode on in your Kite app settings: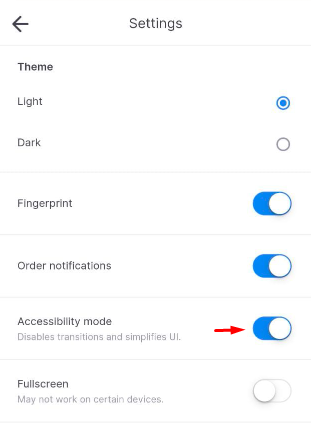 Enabling the accessibility mode also does the following:
Reduces the screen transitions and movements - This makes the screen read time faster on lower-end devices.

Scrolling info pages will be full-screen from the start - Instead of showing a small window within the app and then scrolling up to reveal more, the info pages for instruments, positions, holdings, etc. will be full-screen from the start. This helps with the Talkback/VoiceOver compatibility.

Order window submit turns into a tap button instead of slide - It helps with the compatibility but some of our users also prefer the tap option to slide.
The version is live for everyone. You can share your feedback in this thread.