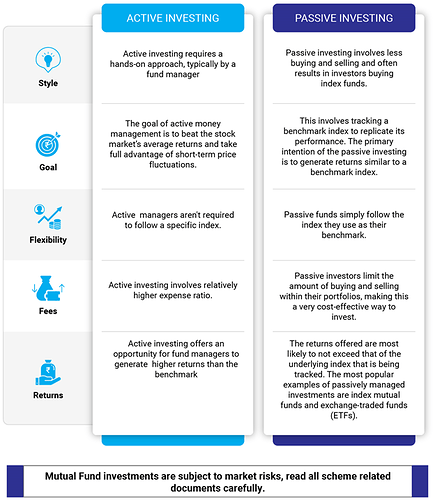 In deciding which is the "right" investment for you – active or passive – will depend on several factors:
Your investment goals

Your investment tenure

Your risk tolerance

Your confidence in fund managers
While passive investing has grown in popularity over the last few years, in many cases active management may help investors improve their risk-adjusted returns. Active management can be especially helpful during periods of market stress, when outperformance can be most critical for investors. Market conditions change all the time, so it often takes an informed eye to decide when to lean towards passive as opposed to active investments.
Disclaimer: The views expressed here in this Article / Video are for general information and reading purpose only and do not constitute any guidelines and recommendations on any course of action to be followed by the reader. Quantum AMC / Quantum Mutual Fund is not guaranteeing / offering / communicating any indicative yield on investments made in the scheme(s). The views are not meant to serve as a professional guide / investment advice / intended to be an offer or solicitation for the purchase or sale of any financial product or instrument or mutual fund units for the reader. The Article / Video has been prepared on the basis of publicly available information, internally developed data and other sources believed to be reliable. Whilst no action has been solicited based upon the information provided herein, due care has been taken to ensure that the facts are accurate and views given are fair and reasonable as on date. Readers of the Article / Video should rely on information/data arising out of their own investigations and advised to seek independent professional advice and arrive at an informed decision before making any investments. None of the Quantum Advisors, Quantum AMC, Quantum Trustee or Quantum Mutual Fund, their Affiliates or Representative shall be liable for any direct, indirect, special, incidental, consequential, punitive or exemplary losses or damages including lost profits arising in any way on account of any action taken basis the data / information / views provided in the Article / video.
Mutual Fund investments are subject to market risks, read all scheme related documents carefully.