Thanks. Does Zerodha have REITs ? How to invest. Just buy like stocks ? Please suggest some good ones.
Every broker has reits. You buy it just like shares. The 3 available reits are Embassy Office Park, Mindspace and Brookfield. Previously minimum investment was 50,000, but now I think you can buy even one share of these, I just bought one share of Embassy few days back.
Taxation is not as simple as explained above. Payouts by REITs have multiple components. Out of those components only interest is taxable in the unit holder's hands, rest all components including dividends are tax free…
Totally agree. Only to add
This is true only if the REIT has not opted for concessional tax regime.
All 3 listed REIT have not opted for concessional tax regime, so dividend is tax free for all 3 of them. But in future REITs, this may or may not be the case.
Wanted to understand if managing your returns filing at the end of the year gets complicated if you invest in Indian REITS.
I guess they split your earnings into capital appreciation , dividends, interest and rents, with each having its own tax treatment. Is this info provided in the form of a statement to each investor?
Can someone who has actually invested in a REIT help me understand the mechanics of this ?
Yes it gets slightly complicated, if you are comparing with plain old interest from FD kind of scenario.
But every REIT quarterly provides a statement of what they have paid, split between each component and its taxation.
For eg. below is snapshot of what I got from Brookfield for last quarter:

As you can see total distribution of Rs. 3000 (specific to me) is divided in 4 components. One is taxable (intrest) and TDS is deducted on it. Remaining three are tax free.
They also provide Form 16 for tax deducted.
I will be using this info to determine my taxable income and report accordingly.
Hope this helps.
Visualizing the REITs Universe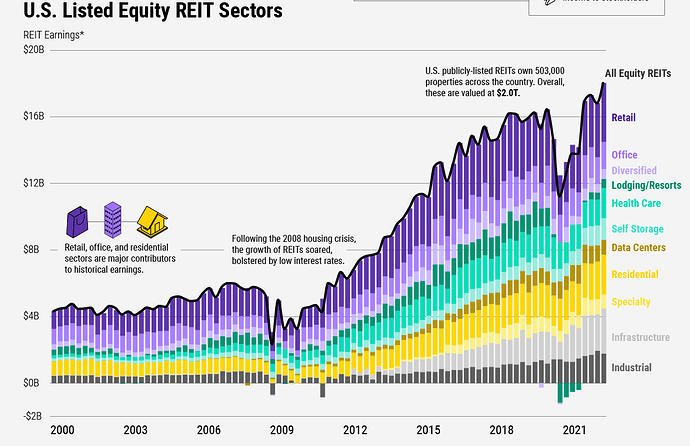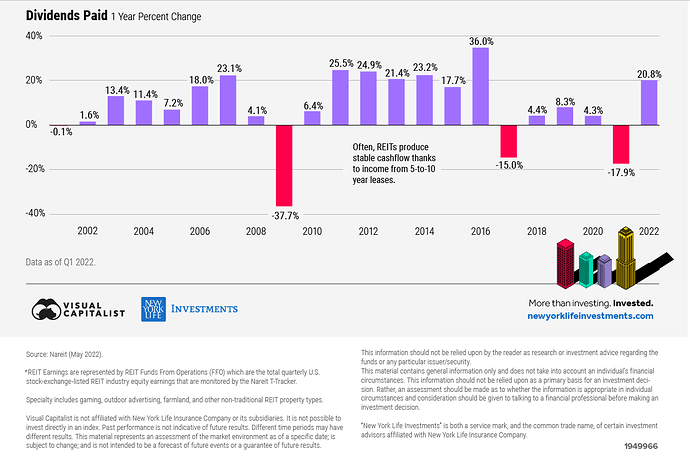 Source : https://advisor.visualcapitalist.com/visualizing-the-real-estate-investment-universe/
Any idea how many investors having currently invested in REITs in india?
Latest SEBI circular on REITs / InvITs
Real Estate Investment Trust (REIT) having net worth of INR 100 Crore or higher are eligible to issue commercial paper

InvIT having net worth of INR 100 Crore or higher are eligible to issue commercial paper.
What was the rule before? Did they decrease the net worth requirement?
100 crores is a small number considering the sector, considering the size of the country.
Reits can certainly be one part of the portfolio. It gives you exposure to the real estate sector and allows you to earn regular income. But the income itself can fluctuate quite a lot and can go up and down.
There was no rule before regarding issuing commercial paper. Now, any REITs/InvITs with networth above 100 crore can issue them, this was done considering the fact that globally, REITs have been issuing commercial paper already thereby following global standards.
Yes. that makes it better for even smaller players (100 crore and above) as they can also participate in issuing CP .
Business will increase considering the small requirement, and so will the risks, as the sector is cyclical and is known for unfinished projects.
This is true for real estate sector in general, but not necessarily for REIT.
REITs are supposed to be holding 80% of their corpus in income generating assets (finished projects), only 10% of total corpus can be invested in under construction project.
Also, Rental income for commercial properties are not cyclical, more like linear income. Most of these contracts are long term with periodic escalations built in.
For example, during COVID lockdowns (which was biggest disruption to Commercial real estate sector), all listed REITs continued to get similar cashflows, and there was hardly any cyclical effect visible in any of the 3 listed REIT.
Yes I have read about listed REITs.
There is a difference between supposition and requirement, requirement is law, supposition is kind of giving a leeway.
My thoughts and concern was about the small net worth requirement, which will make hundreds of small REITs issuing CP, and the occurrence of mutual fund houses buying these CP, and some REITs not able to pay in time or defaulting. Of course fund houses can and for the most part do their due diligence, and don't buy every player that issues CP but still. I was thinking from the perspective of a debt fund investor.
Envisaging a hypothetical scenario

Not sure if I understand what part you are referring to as supposition and what part as requirement. But holding 80% in finished project is requirement and not supposition.
Regarding your hypothetical scenarios and concerns, I don't think you really understand what this latest circular is about. Let me give you some background.
These are the RBI requirements for someone to be eligible to issue CP

As you can see any company (including all real estate companies) and basically any entity which has 100+ cr networth is eligible to issue CP. When these rules were made, REIT did not exist and so were not included in it.
What this latest circular does is add REITs in the list too so they are treated at par with every other institution which is eligible to issue CP.
First, till now there are only 4-5 registered REIT in India (of which 3 are listed), not sure which hundreds of REIT not able to pay in time , you are worried about.
Second this is also possible for thousands of companies (and all other entities) both small and big. Why are you worried only about REIT?
If we keep on building hypothetical scenarios, we will have to close down all forms of financial activity.

RE in its Indian sense is a black box, even with the introduction of RERA, IBC etc, I am not confident about RE as a whole. So if in the future REITs grow and become a segment by itself, considering the size of our country, the demand for RE in general, and how fragmented RE is, if a lot of players issue CP, the probability of mishaps is more compared to other sectors and businesses is my limited point.
Like I said, just a hypothetical thought, a bit of food for thought for myself

So a small real estate company issuing CP today is acceptable but a hypothetical small REIT issuing CP in future gets you worried?
Not sure what to say for that.
No, all the same, no difference. RE is RE.
Of course there are genuine names, I myself had a position in one of them before.