What charges differ when you do btst and intraday…
Equity BTST trades carry delivery-based trading charges while equity intraday trades carry intraday-based trading charges.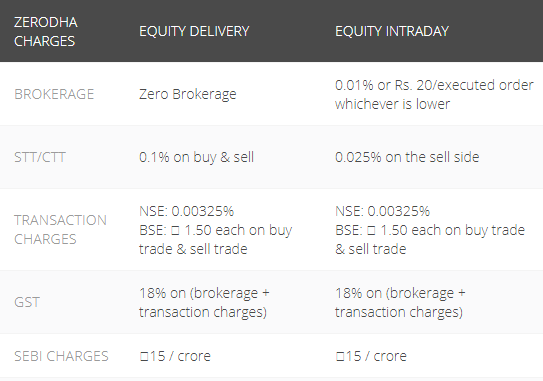 In terms of differences, the brokerage and STT differ when you compare equity delivery and equity intraday charges. Also, since GST is charged on brokerage + transaction charges, the GST will also vary between the two.
The brokerage for BTST trades is Rs.0 whereas the brokerage for intraday trades is 0.01% or Rs.20, whichever is lower.
The STT for BTST trades is 0.1% of the transaction value on both buy and sell side whereas the STT for intraday trades is 0.025% of the transaction value only on the sell side.
Please note, delivery based trading carries a DP charge of Rs.13.5 per scrip on the selling side whenever there is a debit of shares from your Demat account but BTST trades do not have this DP charge as the stocks are sold the next day itself before they reach your Demat account which takes T+2 days.
This info is wrong.
Contact Zerodha Support for correct information.
I'm assuming that if you know this information is wrong then you also know what the right information is?
For Shares Sold on T1 Brokerage is charged automatically as per MIS Intraday Rates.
BTST Trading is not a Brokerage Free Trade. For BTST no demat charges applicable.
When shares are sold on T+1 day, these shares are debited only on T+3 day, so how will the system know that you are performing a BTST trade?
You buy in CNC on T day so we know CNC charges apply, no brokerage. You sell in CNC on T+1 day so again CNC charges apply, no brokerage.
Do you have any reasoning as to how brokerage is charged automatically as per MIS rates?
Hi @BullsVsBear
At Zerodha there is no separate product called BTST, what you have to do is Buy on delivery(CNC) on day 1 and sell on delivery (CNC) on day 2, so the charges mentioned by @Srinivas is correct and applicable. You do not get leverage for these trades. Neither will you be charged DP charges as there are no shares coming to the Demat account, so none leaving.
@portfolioplus911: on day 1 brokerage will not be charged since it is CNC buy and next day it will be CNC sell so no brokerage applicable.
Thanks,
Lindo
Sorry, I was still caught up on this old post when Zerodha used to charge for Delivery Trade as well. My Mistake.