I would like to share one of the simple methods but very effective and efficient method to calculate target during breakouts.
**
The simple thing to do after properly drawing patterns is to make note of low and high and the difference of low and high is calculated for target calculation. if the breakout is on the upside then value difference is added from the breakout point. if it is a breakdown then value difference is subtracted from the breakdown to calculate target.
**
I am illustrating the same with a tatamotors chart which you may find it useful. As a matter of note please ignore the indicators on the chart as they are less relevant when you trade classical chart patterns.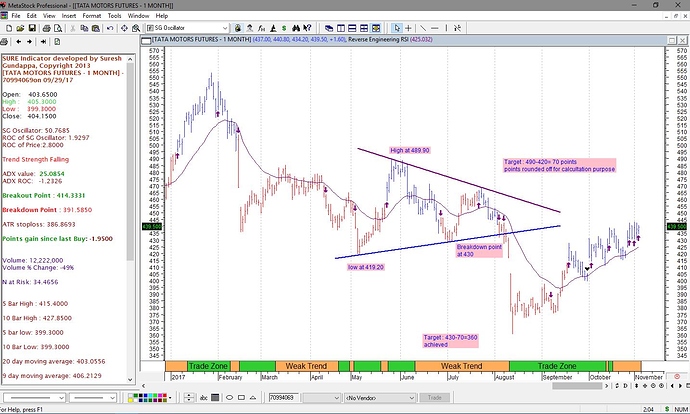 Please note that in tatamotors chart I have shown breakdown from a wedge pattern. points to be noted are
1, any trend line to be valid should have minimum two touch points.
2. within the wedge pattern TM made a low of 420 and high of 490 ( I have rounded off figures)
3. TM brokedown from 430 area and the difference of high and low with a wedge pattern was 70 points (490-420).
4. target from breakdown point is 430-70 =360… if you notice that is where it took support.
for breakout do the vice versa of adding difference value to targets
Please note that most of the time stocks tend to move up even after hitting target and then you have to manage trailing stop-loss, I tend to book profits at the target and leave little on table.
The good thing about breakout is that you can keep stoploss extremely low that low of bar of the breakout.
As always in stock markets nothing is fool proof and this also fails often with respect to target as well as breakouts, trade with caution and stoploss
I wish you best
Suresh