Hi,
I have a question regarding the margin. Help appreciated

I have some positions in options. Also, I have pledged some instruments for getting the margin.
How do I calculate how much margin I have? For example, the available margin & used margin is shown.
Would I get the exact margin I have if I add the available margin & used margin?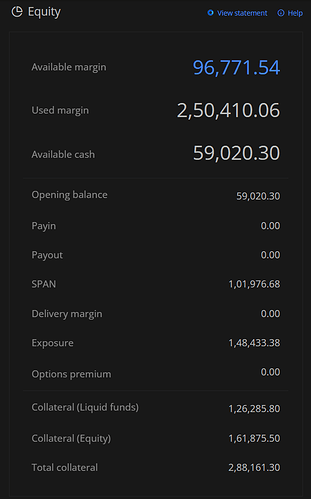 Here for example
  2,50,410.06 +
    96,771.54
= 3,47,181.60

or
Does the Total collateral signify total available margin ?
 2,88,161.30

There is also a difference between Collateral ( Liquid Funds ) & Collateral ( Equity ). Eventhough it is said one should maintain 50:50 ratio of cash vs non cash compnent while pledging. If these are not exactly a 1:1 ratio, then would I get a reduced margin? How is the margin calculated then ?
Thank you