I'm seeing this cm charges first time
Can any one explain about this will it applied on intraday?
#general #futures-options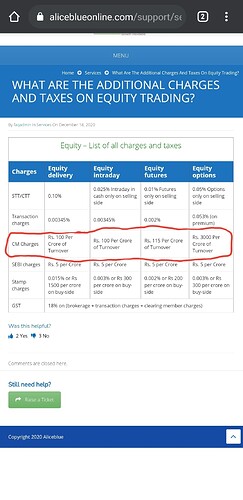 I can see on the heading it is mentioned for intraday eq in 2nd column.
Is zerodha removed oi restrictions on nifty and banknifty
If no when you will over come this problem rather then orbis as solution
Yes they do charge CM (clearing Member) charges for Intraday Option selling.
This is an additional cost compared to Zerodha which does not change any CM charges.
Also for transaction charges Alice blue charges 5000/cr whereas Zerodha charges 5300/cr
But they api for free, for which zerodha charges 2K/pm
So its more of a cost benefit analysis, If you volumes are huge Zerodha will turn out cheaper but for lower volumes Alice blue might be cheaper (ignoring tech, software, support etc.)