We have all kind of forgot about what's happening with cryptos due to the stock mrkt crash

Cryptos are silently yet at the same time violently down more than 50-60% from their peaks and it seems like this time the recovery (if at all its gonna come) is gonna take a while.
Coinbase, One of the biggest crypto exchanges was down 30% yesterday and is now below $14 billion dollars in terms of its market cap falling more than 80% from its highs.
The usual results were bad, mrkts are crashing narrative aside, there was something peculiar about a note which they have stated during their quarterly results which shocked many : Crypto assets can be used by the crypto exchanges in case of bankruptcy !!!
Background
In March 2022, the SEC had published an interpretive bulletin specifically meant for publicly listed crypto companies about the risk based disclosures they had to make. In that, it asked companies to disclose whether crypto assets under the custody of an exchange would be part of bankruptcy.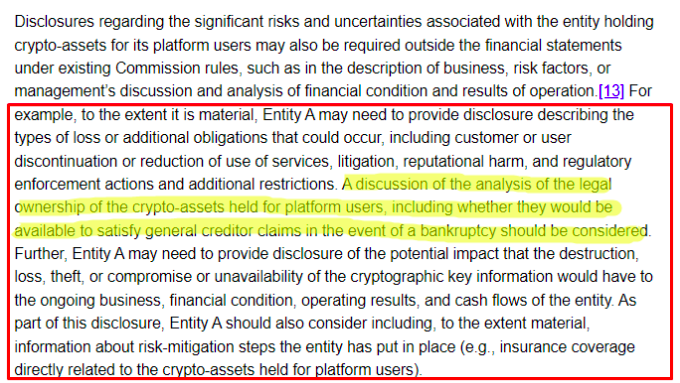 Coinbase in its report included a note about bankruptcy risk

https://fortune.com/2022/05/11/coinbase-bankruptcy-crypto-assets-safe-private-key-earnings-stock/
While bankruptcy of Coinbase might be a low-probability event, the same can't be said for all the other crypto exchanges.
All this stuff looks dubious to me. Kya lagta hai Crypto bhai's ?