Will I be able to apply as a policyholder for the LIC IPO in Zerodha? If yes, how?
Yes, you will get an option to apply as a Policyholder.
The process remains the same. Only that you'll have to select Policyholder option instead of Individual Investor from the drop-down.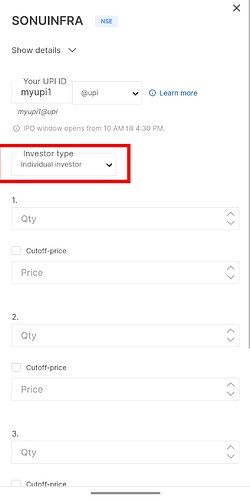 Hi, @ShubhS9
Whats the impact of LIC ipo , How long will it take to be included in nifty 50? and how does that affect nifty 50 f&o Price?
N50 is reviewed semi-annually jan 31st and july 31st.
Last 6 months data is reviewed, so newly listed stocks must also complete 6 months.
In best case, its 31st Jan-2023 when it will be consider in index re-balance.
Not much sure about this

NSE recently changed the criteria for the inclusion of stocks in indices. As explained here:
Thank you @ShubhS9 , I try to study LIC DRHP but the above details is more concise.
@ShubhS9 How to Get Retail Discount while Applying LIC IPO Through Zerodha ? … Pls Guide Me


The discount will be adjusted in the e-mandate blocked amount. The IPO application process remains the same.
Are retired LIC employee ( pensioner ) eligible to apply in employee category in LIC IPO
Can a retail guy make 2 bids one as a retail investor and another as a policyholder?
Also, from your post, it seems retail investors and policyholders cannot use ASBA and have to compulsorily use UPI only for bidding. Is this correct?
Yes. You can.
But one application has to be done from console and the other one from Netbanking ASBA.
Do check this article out :
No, Ajit. Only current employees are eligible to apply under the Employee category.
Why does the Console page say this:
Bidding with cut-off price, cancellation and reduction of bid size is not allowed for these applications due to regulations.
Should I check cut off or not when applying?
If you're placing bid worth more than 2 lakhs, this application will be considered under HNI category. In this category, bidding with cut-off price, cancellation and reduction of bid size is not allowed due to regulations.
No, you cannot use cut-off option. You will have to enter the price.
Sorry just to confirm - I am applying in retail and just one lot. Should I not be checking the cut off checkbox and entering the price?
Have done exactly one IPO before and had checked the cut off then.
If you're applying for an amount less than 2 lakhs then you can check the cut-off box. That note is only for those applying for amount over 2 lakhs.
As you said Sir application process will remains the same it means while applying for the ipo we have to put the cut off price of Rs 949 In the bid section as usual… … Right Instead of Rs 902 as the higher price band for retail investors after deducting the Rs 45 discount.
But During the e mandate process it will be adjusted to Rs 904 per share for retailers… So the amount blocked for 1 lot will be 13560 …Right…
@ShubhS9