cool. thanks for the heads up Shubh.
HI… @kushal_chauhan…
I am having the same issue.
Could find the solution for this?
I have tried above solution, but its not working…!!
Hello,
I bought shares on 20th July, then pledged shares later.
I have received "M&MFIN-RE" in holdings also.
But as I want to pay for the Issue, I am not able to see those in ASBA- Net Banking and also on R_WAP "https://rights.kfintech.com/" facility it is saying "Details entered by you does not match with our records, please enter the correct DPID Client ID or Folio number"
How to resolve this?
Thanks…!
I bought the shares on 20th and sold on ex-date (22nd). RE has been credited to my demat account, but it shows under Demat Balance rather than Equity Portfolio. Broker is HDFCSecurities. HDFC Sec says that is normal for RE shares.
The problem comes on the Registrar website. Error message says "Details entered by you does not match with our records." I know I'm entering the right DP ID and Client ID for my NSDL account, because initially I was getting an error message saying "Invalid DP ID". After that I checked my NSDL statement and entered the correct 16 digit number from that and then error messaged changed to "Details entered by you does not match with our records."
I called their customer service and they asked me to email them. No reply in 2 days on that email.
Could the issue be that I sold on ex-date rather than record date? Should I just sell my existing REs and buy new ones so that my name can show up in the Registrar records?
I paid for my RE to convert into M&M shares via link successfully.If i sell now my RE from my demat, Am I eligible for shares or my paid amount will be credited to my account ?
This cannot be the reason. Best to wait for reply for customer service, maybe send them another email or better call them.
The RTA will check for RE's in your Demat account after closure of issue, if there are no RE's, you won't be eligible.
If you don't get allotment for any shares, the amount you have paid will be credited back to your bank account.
Sir,
I got REs based on my holdings, REs opening price was around 85 n today its 68, I would have made decent money if I had sold my REs @ 85 and repurchased it around 60 or 50 before the trading window closure in order to apply for right issue. But it was not at all clear & i was so worried about my right eligibility as well if i sell and rebuy it. Practically its possible I feel. Nobody shares such information. Thats very sad.
Hi,
I have two queries
1- I want to know for applying extra Rights Issue , should I have to purchase RE's equivalent to Nos of extra Rights Issue applied.
2- If i sell RE's credited to my demat account, will my appled right issue application will be consider and I will get Rights Issue.
I holding 6k shares at the average price of 164 & I am eligible for 6k RE shares. Anyone have idea what will be the average share price once all this get over??
If you want guaranteed allotment, you will have to purchase more RE's.
The RTA will check for RE's in your Demat account after closure of issue, if there are no RE's, you won't be eligible.
I have applied through the kfintech site on Aug 1. I did receive the payment successful screen when i made the payment (UPI), and it mentions the transaction and application number. I had downloaded the payment message as PDF. However I have not received any mail on the same. Should I consider this as successful payment or should I consider that there's something wrong with it? How do I confirm the same?
Also I read in one of the replies that for guaranteed allocation, I should buy more REs. Is that for existing application of 1:1 RE? or application beyond those?
eg. I have 100 shares, and 100 RE. I applied for all 100. should i expect to then receive the 100 shares guaranteed? similarly if i had applied for say 200 RE, then I will get 100 RE guaranteed (as part of my existing entitlement) and a portion of remaining 100?
If you have 100 RE's and applied for 100 shares you will receive guaranteed allotment of 100 shares. If you have 100 RE's and applied for 200 shares, allotment for 100 will be guaranteed while for remaining 100 will not, if you don't get allotment for extra shares, remaining amount will be credited to your bank account.
Hi @ShubhS9 , I have sold my rights shares, all of them on Monday. The issues that I am facing is :-
In my trading account I have my trading limit showing the amount obtained by selling them. But I cannot release that money in my bank account.
Do I need to do anything more for my rights shares, since I have sold all my shares ?
Any help will be appreciated…
Hello , I am new to stock market so had some queries regarding M&M's rights issue .
I had 110 shares of M&M so after the RE 110 more shares were credited to my Zerodha account under RE category . I didn't knew the process of ASBA earlier so due to lack of knowledge I bought 110 shares of M&M at Rs. 78.5 on 24th July .Now looks like the total quantity of REs that I have is 220 .I want to acquire the rights of shares that I have .So can someone tell me regarding the quantity which I can apply for ? Is it 110 or 220?
For more clarity I am sharing the screenshot of the holdings,
Please help me out.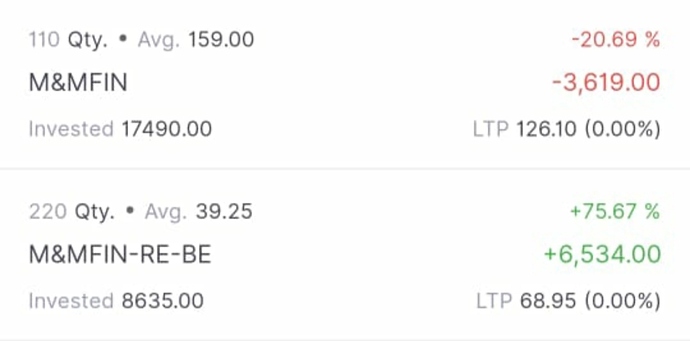 You can withdraw funds received from sale of shares only after T+2 days. You sold on Monday, so you can withdraw those funds only on Thursday.
If you want to apply for rights shares, you will need RE's in your Demat account.
You have 220 RE's, so you can apply for 220 rights shares.
Thanks, So if I apply for just 110 ,will the other 110 that I purchased will be vanished from my account after 7th Aug?
After 7th August you will not be able to sell them in market, after issue closes on 11th August, RE's will expire worthless and you will lose all the money paid to purchase them.
Thanks a lot for the information