By popular request, we have introduced our long-standing order type "GTT" for Index futures and options on Kite web. We will soon have it on the Kite mobile as well. So now for Index F&O
You can set a long-standing stop-loss and/or target while entering an index F&O trade or from the positions page if you already hold a position. This means you don't have to keep track of positions all the time.
This will help you stay disciplined due to the ability to set long-standing stoploss.
Unlike normal orders where you need additional margins to place both stoploss and target, you wouldn't need additional margins to place a GTT.
The important thing to remember though is that if you manually exit positions for which you have already set a GTT, you have to cancel the open GTT. If you don't, they will get executed whenever triggered creating a new position you may not want. The nudge on Kite order window will show any pending GTT as a reminder.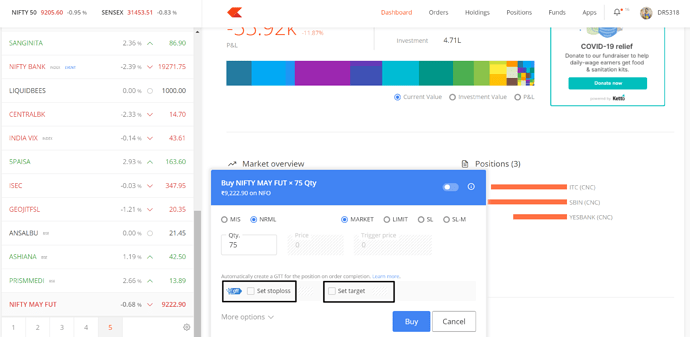 For all those who don't know how GTTs work (which were so far only for equity delivery trades) check this post:
This is a new feature, so let us know if you find any flaws in replies to this thread.