Got this message on tradingqna . Little investigating and it reminded me of the incident when I had blown my entire trading account on an expiry day in the early 2000's. Sharing it for benefit of other option traders.
The message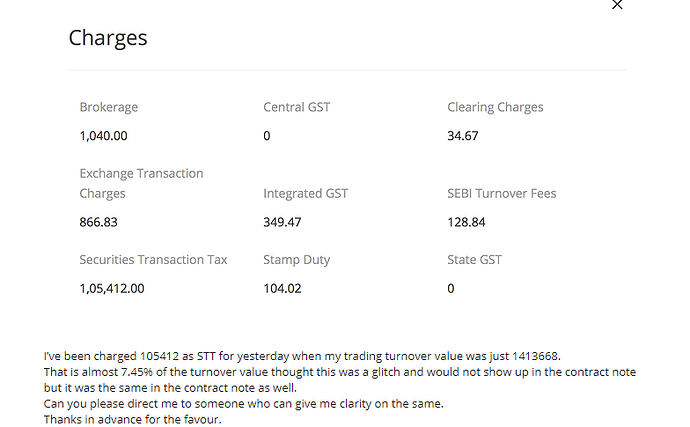 What has happened in the above case is that client had bought 26200 CE and 26300 PE of Banknifty which expired yesterday. Theoretically you'd assume that buying both of this should be equal to 100 atleast on expiry if market closes within 26200 and 26300.
Banknifty was at 26270 at 3.15pm, calls were available at around 55 and puts for 25. Together costing you Rs 80, but theoretically it should be atleast 100. It is very easy to think of this as a risk free trade and take a position by buying both calls and puts just before market close. But this can be disastrous, and here is why.
STT for in the money options is 0.125% of the contract value. Almost 32 points for calls and 32 points for puts (Bank nifty). What this means is, even though the theoretical value is 100, if position held to expiry/exercise, it is worth only 36 points (32 on buy calls and 32 on sell calls go away as STT. So 100-64). Now by buying at 80 and letting to expire, you would have got back only 36 after STT - causing a 60% loss on the position.
This post explains the STT issue when trading options. Do read.
ps: The new CTM fix ensures if STT is more than the premium, then it doesn't eat up more as it can be expired worthless. But STT still eats up exponentially more if you hold buy option positions on expiry and let it exercise.
Long time back, I had gotten into similar position. That too by taking additional leverage thinking it is guaranteed profit - blew up the entire account. Had to go back to telemarketing, and the life lesson learnt that day was
Markets are super efficient with lakhs of professional traders and programs scouting for money making opportunity. If a trade comes across that seems too good to be true or as if it is high return guaranteed profit, it probably isn't.