With the election results set to be announced next month, most novice investors are worried. Questions seem to swirling in their heads as to what would happen if the BJP doesn't come to power or if a coalition headed by Congress came to power. Tomorrow it will about some other event.
Well, if you are an investor, I am going to tell you an evidence based truth - NONE of this matters.
Here's how the BSE Sensex has grown over the past 40 years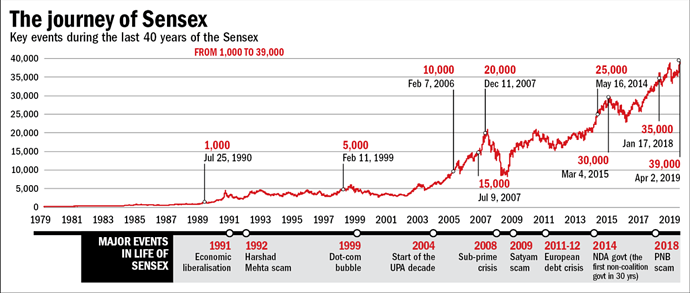 Source:
Valueresearch
Looking at its history, Sensex gave a compounded annual growth rate of 16.1 per cent from 1979 to 2019. Till 1986, when the Sensex was not actually available but was traced back, the returns were 27.9 per cent CAGR. After its launch in 1986, it gave an annualised return of 13.7 per cent.
The 40 year period has seen countless scams, wars, financial crises, coalition governments, economic reforms and much more. Ultimately, the market has rewarded patience. If you are investing for the long term none of the temporal; noise and events matters.
This reminds me of this quote
In the short run, the market is a voting machine but in the long run, it is a weighing machine.
Benjamin Graham