Some interesting highlights from the RBI May 2023 bulletin.
---
Second largest FDIs in semiconductor space
As reported by FDI Intelligence, India was the second largest recipient of Foreign Direct Investment (FDI) (US$ 26.2 billion) in the semiconductor industry for the year 2022, second only to the US (US$ 33.8 billion). Massive Investments in capital-intensive chip FDI projects are underway.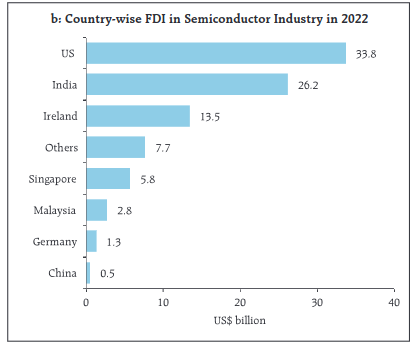 ---
Corporate performance
Non-financial companies
Corporate performance during Q4:2022-23 based on the available results indicates that even though the aggregate sales growth moderated, companies have expanded their operating profits as the expenditure growth also slowed down.
Other income such as treasury management also grew during the quarter. Overall, net profit growth returned to positive territory after two consecutive quarters of contraction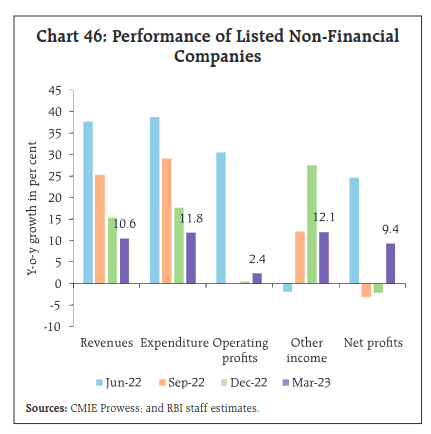 Financial companies
Banking and other financial sector companies registered an acceleration in their revenue growth in Q4:2022-23, but their profitability growth moderated owing to a rise in expenditure
Other income which captures gain/loss arising on account of changes in valuations of securities, fees, and commissions, also registered healthy growth. In addition to the rising cost of funds, employee costs also increased sharply, as several companies focused on their expansion plans. Net profit growth remained in the positive zone, although it moderated from the preceding quarters.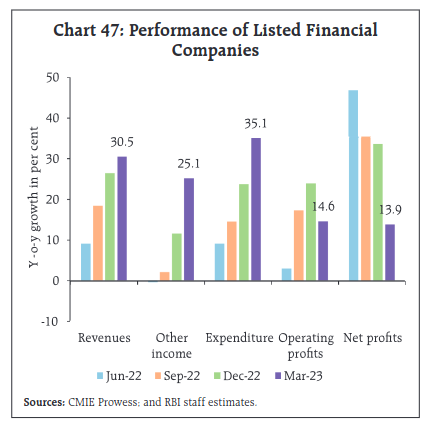 ---
Term spreads are compressing to multi-year lows
Term spreads, which is the difference between interest rates on short- and long-dated government securities, is often referred to as a predictor of the business cycle. Term spreads, which had been widening since the second half of 2019 and sharply so during the initial stages of the pandemic before they started to ease from the beginning of 2022, have compressed to multi-year lows.
Illustratively, the yield spread between the 91-day T-bill and the 10-year bond has shrunk from around 300 basis points at the end of 2021 to around 5 basis points; between 2-year and 10-year G-secs from around 200 basis points to around 12 basis points; and between 5-year and 10-year g-secs from around 65 basis points to under 6 basis points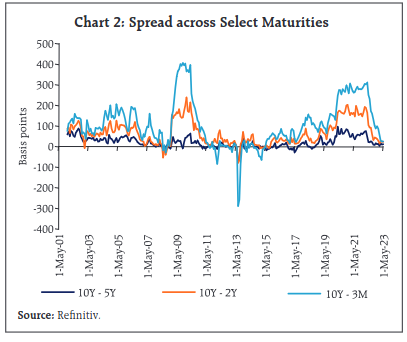 ---
Bond Markets are gaining
Bond markets extended gains, reflecting strong demand for government securities on the expectation of a likely shift of stance after the Monetary Policy Committee's (MPC) largely unanticipated move to pause on the policy repo rate. The decline in the US treasury yields also supported market sentiments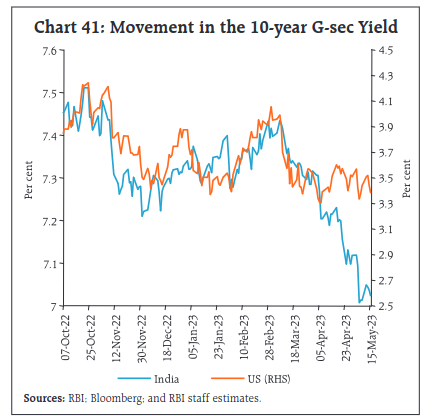 ---
Rising prices of Rice
High-frequency food price data for May (May 1-12) point to an increase in cereal prices, mainly due to Rice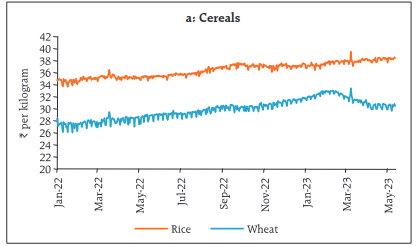 ---
Procurement of Rice and Wheat
As on May 16, 2023, the public procurement of rice during the kharif marketing season (KMS) 2022-23 (Oct-Sep) was lower by 1.8% YoY.

As on May 16, 2023, the procurement of wheat during the rabi marketing season (RMS) 2023-24 (Apr-Mar) so far, at 260.1 lakh tonnes, has surpassed the total procurement of last year by 38.4%
Public stocks of rice and wheat with the Food Corporation of India (FCI) and other government agencies as on May 1, 2023, were 3.1 and 3.9 times the buffer norms, respectively.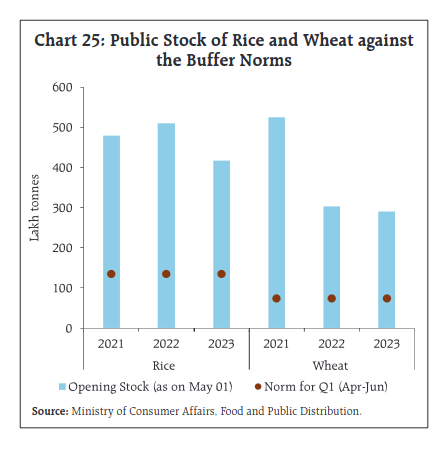 ---
Wheat procurement
The procurement target for rice during the KMS 2022-23 is set at 51.8 million tonnes and for wheat, it is at 34.15 million tonnes during RMS 2023-24.

Market arrivals of wheat, which were affected in March by the delay in the harvesting of

Rabi crops caused by unusually higher rains and hailstorms, picked up in April. As a result, wheat mandi prices continued to moderate (m-o-m) in April. Price pressures, however, persisted in respect of paddy, partly reflecting higher export demand

---
Rainfall and Reservoir levels during El Niño years
Historically, rainfall at the end of the SWM season has been below normal in the last four El Niño years.

This might also impact the reservoir levels across the country, which is critical for the irrigation of rabi crops during winter.

Nevertheless, the positive Indian Ocean Dipole (IOD) conditions are expected to counter the impact of El Niño in the later phase of the monsoon in 2023.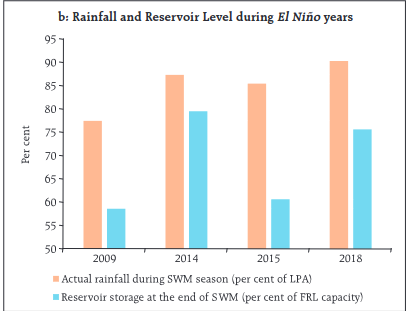 ---
State Finances
As per the accounts data for April-February of 2022-23, States' gross fiscal deficit (GFD), as a proportion to the full-year budget estimates (BE), was lower than a year ago as the increase in revenue collection by 14.1% was broad-based. On the expenditure front, growth in revenue and capital expenditure (capex) moderated.
The consolidated states' GFD to gross state domestic product (GSDP) ratio budgeted at 3.2% for 2023-24 (as per data for 26 States) is within the target of 3.5% set by the Centre.
The lower GFD-GSDP ratio is due to moderation in revenue expenditure, even as capex is expected to increase.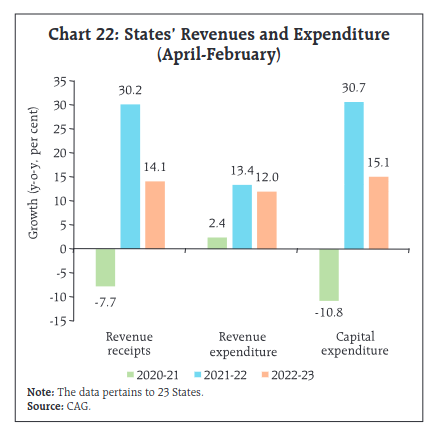 ---
Exploring India's Export Potential through the Lens of Export Similarity Indices

Composition of exports
The rapid growth in services exports has led to their share in India's total exports increasing to high levels, even higher than the average share in Advanced Economies
---
Africa - A Potential market for exporting countries
India is increasingly engaging with Africa and strengthening its trade and investment relations with the continent – its share in Africa's imports increased from around 4% in 2017 to 6% in 2021.
---
India's merchandise exports growth trajectory after COVID
World merchandise exports attained a positive trade gap – the actual export values exceeding the estimated export values – sooner than India. In turn, India's export gap turned positive earlier than the G7 countries. In recent months, India's merchandise exports have outperformed both the G7 as also the world's goods exports.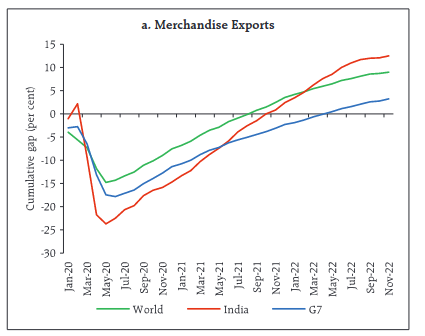 Services exports
The G7 services trade gap (exports) remains negative, staying below the pre-pandemic trend. On the other hand, India's services exports gap turned positive in the Q4:2021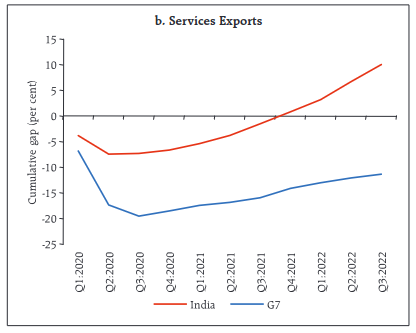 ---
India's Steady State Equilibrium Inflation: A Revisit
The average inflation over a longer period viz., 2014 to 2022 across the components of CPI-C indicates large variations in some product sub-groups, especially in 'food and beverages' viz. 'meat and fish', 'oils and fats' and 'spices' at a higher side with a compound annual growth rate (CAGR) of above 6%. In contrast, the CAGR of 'sugar and confectionery' remained lowest, slightly at above 2%
---
Weightage of states in CPI-C Basket
The weights (share) of states appeared to have concentrated amongst the top six States, collectively cover more than 50% of weight in the CPI-C basket
India and COP-26 Commitments: Challenges for the mining sector

---
Dependency on Coal
While most countries have recorded a decline in coal usage over the years. China and India have a higher share of coal in their primary energy basket, the former has reduced its share over time. Compared to that India saw a marginal rise in the coal's share in total energy consumption.

Coal is the most important fossil fuel in India, it accounts for 55% of India's energy needs which is almost twice as compared to the world.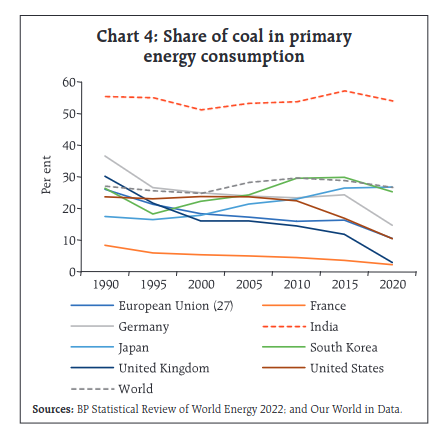 Irrespective of declining share of coal in total primary consumption, China remains the major emitter of Greenhouse gasses from coal use, and its emission from coal increased diabolically after it became part of the WTO in 2001 and increased its share in world manufacturing. India's emission from coal is also on the rise and is above that of developed as well as other emerging market economies (EMEs)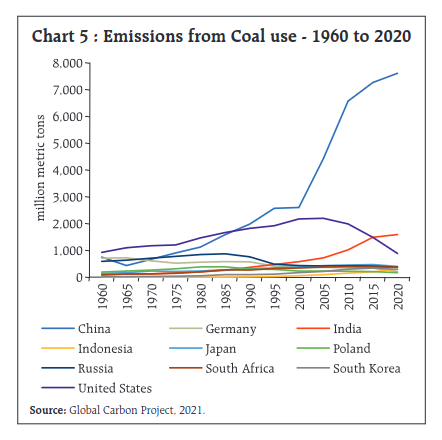 ---
Renewable energy path
---
Renewable Energy - Installed Capacity
India has made significant strides in renewable installed capacity with its share in total installed capacity at 41.3% (including large hydro) in March 2023. However, its share in electricity generation is low at 22.8%.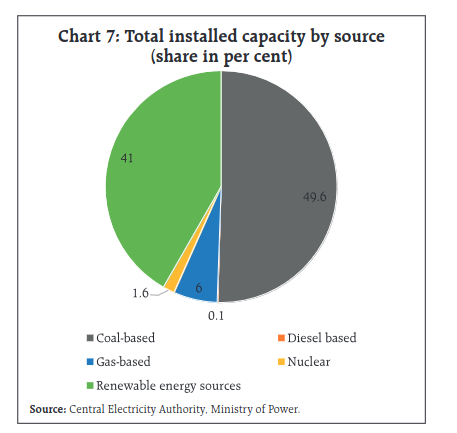 ---
Top Countries % share in Global reserves and production
India's share in Global Production and Global Reserve of Critical Minerals