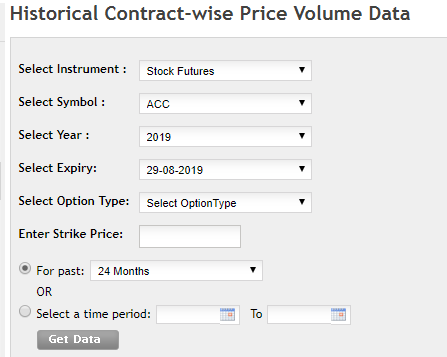 Hi, I am trying to download Historical Contract-wise Price Volume Data from the NSE website.
I can pull the CSV file individually from the website for each scrip that I need. However, I am interested in knowing if there is a way to automate this whereby I could link excel query to refresh the report for ALL scrips in derivatives segment each day.
The parameters would remain nearly the same (except for the expiry date, of course). So basically, it will be something like -
Select Instrument : Stock Futures
Select Symbol : Symbol Name
Select Year : Current Year
Select Expiry: Current Expiry
Select Option Type: Select Option Type
Enter Strike Price:
For past: 24 Months
I have in mind one sheet per Symbol Name. So, each sheet will have a link for that Symbol which will refresh the report.
Is there any way of achieving this ?