How can I buy bonds ? Does GoldenPi is owned by Zerodha ?
You can buy through Kite if they are listed on the Exchanges, also Coin too offers investing in select high quality Bonds.
@ShubhS9 want to buy bank bonds with coupon rate at least 8%. Where can I buy?
What is the current inflation rate?
It lists bonds issued by companies issued by DHFL. I like to buy bonds issued by Axis bank, HDFC bank, ICICI bank, etc.,.
@ShubhS9 Thank you. Is that website safe? It says partnered with Zerodha. Also, what you think about bonds issued by the private sector banks? The South Indian bank gives 13.46% annual return.
You can find details that it is secured or unsecured.
South Indian Bank - Tier I bond :-
TYPE OF DEBT = Listed, Unsecured, Subordinate Debt
How safe are TIER - I bonds and TIER - II bonds?
It is unsecured. I think If anything happen to company I think company will defaults.
GoldenPi only acts as intermediary, the bonds you buy are safe in your Demat account.
You can read FAQ's here https://goldenpi.com/faq
Can check this varsity chapter on bonds. Few bonds are more riskier than they seems, if you are new to bonds or don't know them in detail better to avoid them. Just buy gsecs or sdls or even few psu bonds which are guaranteed by govt.
Tier 1 is not secured, just for few more basis points don't go with it.
Also no need to tag nithin for these kind of basic queries, tag myself or shubh or bhuvan.
If I buy from GoldenPi and bonds credit to my zerodha demat account.
Can I sell from zerodha if bond are listed.
How about Tier 2 bonds of private sector bonds? What happen to the Tier 2 bond holders of Yes bank? Only the Tier 1 bond of Yes bank is written zero, I guess? What will happen to the Tier 2 bond holders of Yes bank?
Is it possible to buy these bonds on secondary market for a discount

If those Bonds are listed on the exchange you can.
On that website, I can't find the listing names of the bonds. Example: It has mentioned - The South Indian Bank Limited Corporate Bond. But on what name does it get listed on NSE/BSE?
The bond's symbol is 1375SIBLPER and it is listed on BSE. For more details about the debentures/bonds issued by that bank, refer to https://www.bseindia.com/stock-share-price/south-indian-bank-ltd/southbank/532218/debt-most-active-series/.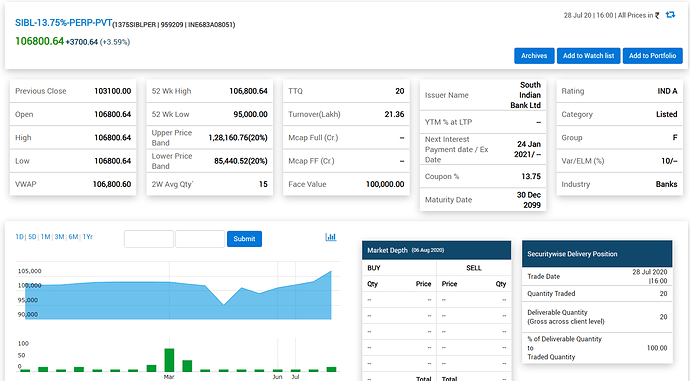 In June, Yes Bank skipped payment of interest on their Tier 2 bonds. But the interest was said to be accumulated and would be paid by the bank later, subject to it complying with the regulatory requirements
But since then, as Yes Bank has raised capital via its FPO, it has come out and said that it would be paying the pending interest (after obtaining regulatory approvals)
I heard some people saying Tier 2 bonds of private banks (as well as Tier 1 of public banks) are safe than the NBFCs. since the banks are monitored directly by the RBI. Are they safer than NBFC bonds?
But TIER - I bond of IndusInd bank has AA/STABLE CRISIL, AA IND rating,
While TIER - II bond of South bank is only A+ rating (which is below AA rating) - why?
Also, TIER - II bond of Shriram Transport Finance Company Limited has the top rating of AA+/STABLE CRISIL, AA+/STABLE IND (though not directly monitored by the RBI) - why?