I want to view the charts of index futures of prev. months. Is it possible in Kite/Pi? Any other source?
Sorry sir i don't know,
My goal only how to make profit in current week in banknifty options.
Change the chart into Daily timeframe and do this…
Cheer!
Neha (www.VRDNation.com)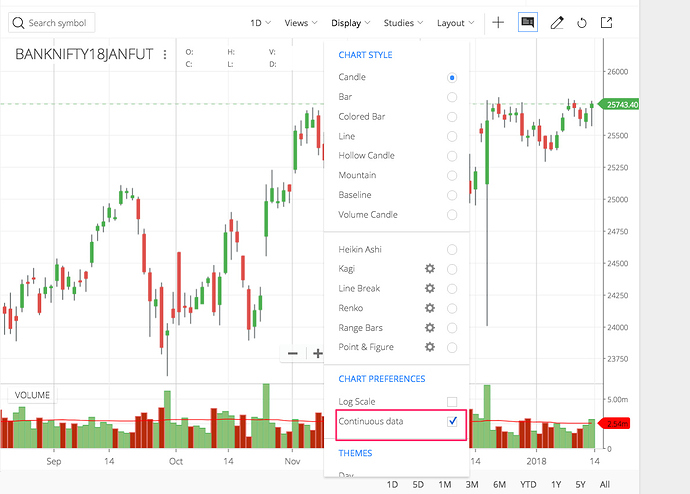 Thanks for the reply.
This is for daily frame. I need charts of 1,3,5 min. of bank nifty of Oct,Nov and Dec future.
May be you can try this in Pi
Right Click BankNifty's chart -> "Save Chart" -> "Save Chart Data to Excel"
I use paid data feed from one of the vendors (there are many like GlobalDatafeeds, VCharting etc.) into AmiBroker. It costs about a thousand bucks a month but seems like you need to backtest your strategies so it probably might be worth it.
Hello neha madam
Backtesting is not a good thing to do. Indicators align themselves pretty well on past stationary data as seen on charts!!
You see supertrend showing u uptrend signal, supported by EMA crossover etc along with candle pattern and you draw a conclusion ohh look at this. If someone had entered into trade at this point, he would have made good money!!
Do u know that past data is stationary & not realtime.
During realtime movements, indicators too keep on changing every time. The same super trend reverses from BUY to SELL to BUY repeatedly!
So does EMA & others. Even candlesticks keep changing colours before the closing price of its time frame.
Spaceship,
You're right about indicators. I don't most of them anyway because they are inferior to (and derivatives of the) price-volume action. But backtesting is much wider in scope than just testing indicators. I use backtesting to identify patterns in time/sales data, price reactions to the key supports/resistances, identify correlation between stock's price with sector's index or NIFTY Midcap index and so on…
Most of all, I use the backtesting result as an exhibit A to the hypothesis I am working on. In other words, backtest can act as a confirming or dis-conforming witness to my broader theory, which is based on technical analysis. Most of the time, I use backtesting for rejecting a strategy than picking one.
Hope that makes sense …
Cheers!
Neha