If you held share in record date and received RE, you can select "I am Shareholder" option.
i have one received RE and i have also purchased some, now how to apply ? shall i have to apply twice i means once for entitled RE and one more time for purchased REs?
When you proceed further, there will be "No. Of Shares Applied For" box, enter number of shares you want to apply for and you are done. You don't have to make seperate applications.
brother, u mean now i have choose share holder option but what abut those i have purchased then? those which i have purchased also covered in this only if i enter how many numbers i want to purchase like that? please dont mind since i am new to trading asking these many questions
Yes, when you enter how many shares you want to apply for, the RE's you have purchased will be covered in this.
thanks bro, i can also apply for higher no. of shares than my entitlement also no? i mean if i hold ex. 50 REs and can i apply for say 100 also right? if its not alloted, they will refund remaining amount right?
Yes, you can apply for more shares than RE's you have, if you don't receive allotment, your remaining amount will be refunded to your bank account.
Thanku so much bro

one last qn bro, as u said, now i am not a renouncee (i mean am share holder) then can i apply though SBI bank (ASBA option) coz in terms and cndtns of sbi, they have mentioned u should not be a renouncee like that. and will sbi levy any charges for this?
Hi, I have minda RE in my demat account from Zerodha. Can anyone guide me how to apply for rights issue. Should I go to Asba bank for applying it or can do through Zerodha platform itself. I have Hdfc bank account
Even if I'm not a shareholder, i have just purchased rights, can i apply for right issue through RTA? If not then whats the alternate process. Can i apply through SBI net banking? Awaiting your reply.
You can apply for Rights Issue via RTA website even if you have bought RE's through secondary market.
Yes, you can apply for Rights Issue through Netbanking ASBA as well.
I have my account in SBI. But when i clicked in asba link - Demat nsdl, it says you don't have dmat account. I'm registered with Zerodha. Pls help me out.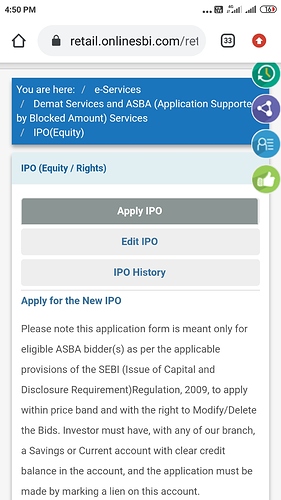 There's only ipo option under this. When i go further it shows name of companies whose IPO has been listed. What to do?
Best if you get in touch with the RTA at [email protected] or at +91 22 6263 8200, explain them your issue, they should be able to resolve it.
I got reply from from Big Shares as well as Zerodha where I have my account. Big shares says you can only apply via B-Wap if your are existing shareholder or else ASBA is the only option. While zerodha says you can apply through Big shares even if you are not a shareholder and have purchased pre shares. I cannot even apply via SBI net banking as they don't have such option. What to do? Pls help.
How do I apply for the rights issue of PTC industries please