Please explain with necessary details of the buyback.
Hello,
If you hold Justdial shares and you wish to participate in the buyback, all you have to do is sell your shares in the regular open market between 9.15am and 3.30pm. Please note that this sell transaction is a regular market transaction. There is no separate procedure to sell shares for the buyback.
Justdial will place a buy order in the open market through their broker atleast once a week in such a way that the max buyback price doesn't exceed Rs.700 and the max buyback value doesn't exceed 83.91 cr. The buyback orders are placed on both NSE and BSE.
You can track the daily buyback status of Justdial on NSE India. The link to the buyback page on NSE is nseindia.com > Corporates > Announcements(Corporate information) > Corporate Information > Daily buy back(Equities).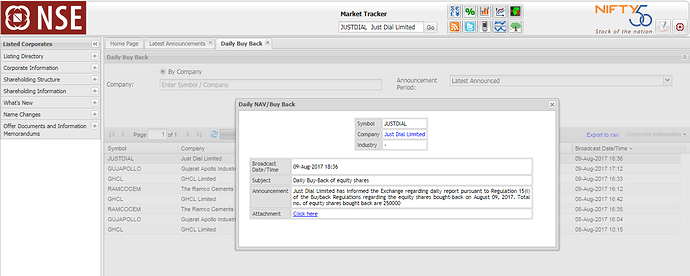 You can also find an attachment that has an update on the number of shares bought back so far and other details.
This buyback offer is a reassurance by Justdial that their equity has value and they're willing to buy it back in case there are no buyers in the market, in the hope to increase investor confidence in the sense that they will not lose their invested capital as the company itself is willing to buy back at a higher price.
Is there a limit on the maximun number of shares Justdial will buy back in this period?
Can't it be possible that I only sale to just dial at buyback price instead of selling them at market price which is usually lower than buyback price