Indians have cherished holding physical gold for ages due to its intrinsic value and its ability to tide over financial emergencies. There are two different ways of investing in gold – physical and digital. As per tradition, making any new investment during Akshaya Tritiya is considered auspicious, especially buying Gold. You can buy it in the physical form through jewellery, gold coins, and gold bars. Whereas digital gold assets include Gold ETFs, Digital Gold, Sovereign Gold Bond and Gold Savings scheme.
Owning gold in its physical form has its own set of challenges; which include concerns regarding purity, safety and high costs due to making charges in tandem with the latest designs. Additionally, in the light of the lockdown restrictions, jewelry shops may be open for fewer hours posing a setback to the gold buying tradition.
In the light of these drawbacks, which are the options investors could consider? This article explores the three options of Gold ETFs, Sovereign Gold Bond & Gold Savings Scheme.
Gold ETFs
Gold ETFs are exchange-traded funds that track the domestic gold price. It was launched in the year 2007 and since then has rose to popularity due to high liquidity and ease of trading.
You can invest in Gold ETF using a DEMAT account and can be redeemed at the prevailing price of Gold. These ETF units are backed by physical gold that is 99.5% pure, with each unit representing ½ or 1 gram of gold.
Advantages of Gold ETF
Backed by physical gold of 99.5% purity
Easy liquidity; can be redeemed at the prevailing Gold price
Transparent and tracks the real time price of Gold
Disadvantages of Gold ETF
Not all funds offer the option of redeeming in physical gold
Gold ETF is a hassle-free option to consider and due to its high liquidity, you can hold Gold for the tenure you need; be it short, medium or long-term.
Sovereign Gold Bond
Sovereign Gold Bonds are securities issued by the RBI on behalf of the Government. It helps you to gain capital appreciation and receive interest income for a fixed term of 8 years. The price is determined by the Indian Bullion and Jewelers Association Limited (IBJA) based on the average of the last 3 days closing prices of 99.9% purity Gold.
Advantages:
Relatively low risk due to Government backing
Since Sovereign Gold Bond scheme comes with a lock-in of 8 years, it is an ideal investment if you are looking for long term investment.
It can be used as a collateral to avail loans upto 75% of the market value of bonds.
Disadvantages
You have to pay income tax for the periodical interest income as per your income tax slab rate.
Lock-in period of 8 years makes it a relatively illiquid option when you are in need of money.
You can invest a maximum of upto the equivalent of 4kg of gold.
Investing in SGB is an option to consider as it provides capital gains along with interest income. But you need to be cognizant of its lock-in period and taxation implications before investing.
Gold savings schemes
Gold or jewelry savings schemes is where you have to deposit a fixed amount every month for the period chosen. When the term ends, you can buy gold (from the same jeweler) at equivalent to the amount deposited This conversion is done at the gold price prevailing at the time of maturity.
Advantages of Gold Savings Scheme
Option to buy gold in a convenient installment
You can enroll for as low as Rs.500 per month
You get an option for discount/cash depending on the terms agreed with the jeweler
Disadvantages
High making charges while redeeming, which can go as high as upto 30% of the value of the Gold jewelry.
You need to buy with the same jeweler which means no room for negotiation due to high-markup on Gold jewelry
Investing in Gold Savings Scheme is an affordable option for those who do not have a lumpsum to buy Gold jewelry, but you need to look through the fine print before investing.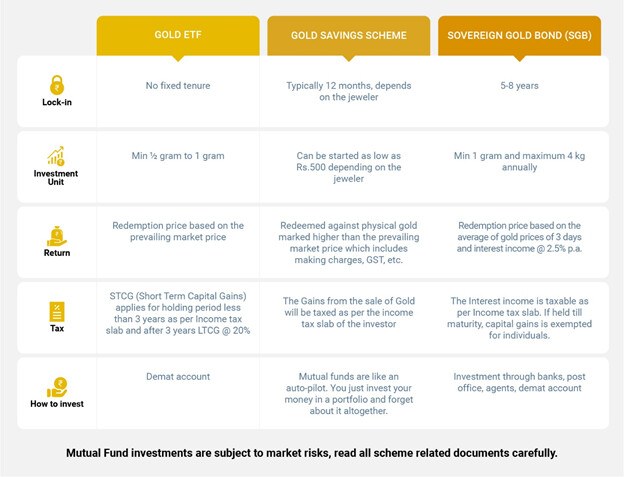 This Akshaya Tritiya, evaluate the gold investment options and invest wisely, considering your investment horizon, liquidity needs and risk profile. Since venturing out for jewelers shopping is not advisable during this time, it may be a better decision to invest in Gold digitally this year.
Stay safe and Happy Akshaya Tritiya!
Disclaimer: The views expressed here in this Article / Video are for general information and reading purpose only and do not constitute any guidelines and recommendations on any course of action to be followed by the reader. Quantum AMC / Quantum Mutual Fund is not guaranteeing / offering / communicating any indicative yield on investments made in the scheme(s). The views are not meant to serve as a professional guide / investment advice / intended to be an offer or solicitation for the purchase or sale of any financial product or instrument or mutual fund units for the reader. The Article / Video has been prepared on the basis of publicly available information, internally developed data and other sources believed to be reliable. Whilst no action has been solicited based upon the information provided herein, due care has been taken to ensure that the facts are accurate and views given are fair and reasonable as on date. Readers of the Article / Video should rely on information/data arising out of their own investigations and advised to seek independent professional advice and arrive at an informed decision before making any investments. None of the Quantum Advisors, Quantum AMC, Quantum Trustee or Quantum Mutual Fund, their Affiliates or Representative shall be liable for any direct, indirect, special, incidental, consequential, punitive or exemplary losses or damages including lost profits arising in any way on account of any action taken basis the data / information / views provided in the Article / video.
Mutual Fund investments are subject to market risks, read all scheme related documents carefully.