This is the web URL for Zerodha Gold bonds. When a new tranche for Gold bonds is issued by the RBI, this page is activated by your Kite login. You can then log in and place your order.
This is what a typical gold bond order window looks like: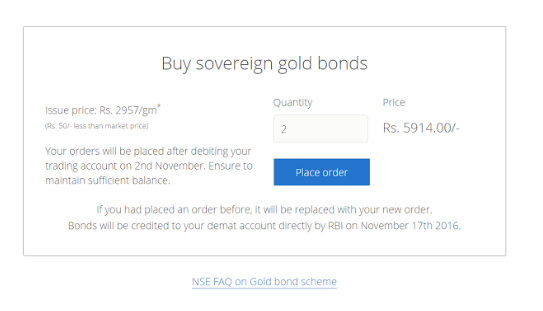 But I bought Gold bond for July 12 - 14 2017 trance
It is given that bonds will be credited by RBI on July 28th still I cannot see them any where can you please help me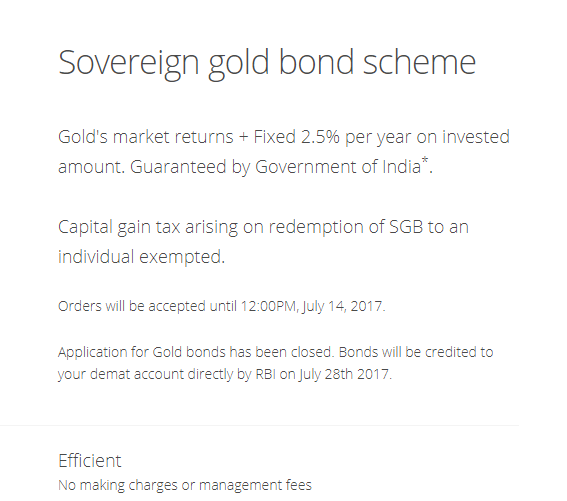 As a broker, we have the option to place bids on behalf of the client. We collect all the bids and place these orders at once, on the bidding page.
The whole process between placing the order and crediting of units is managed by the RBI. The units were supposed to be credited on 28th July but there has been a delay. We are yet to receive a communication from RBI regarding the exact day of allotment. Once the units are credited to your Demat, you will receive an SMS from the Depository.
Please note that only after all the units are allotted will the SGB be listed in the market. Nobody can trade in these units until then.
You can read more on this link.
DId you get credited on july 28th 2017?
The allotment of the latest tranche has not yet happened.You'll get an SMS once the credit to your demat account is done.
The allotment of the latest tranche is credited in demat now.
Can we sell it?
How we can get profit from it?