The CL Educate Ltd IPO is opening tomorrow, can someone explain how do I apply through Zerodha?
The CL Educate Ltd IPO opens on March 20, 2017 and closes on March 22, 2017. The company is offering shares in the price band of Rs 500-502 per share.
So in order to apply for an IPO, you can apply via ASBA (Applications Supported by Blocked Amount), this blocks the amount in your account and will be deducted proportional to the allotment or completely released in case of no allotment.
There are two modes of ASBA;
Online: You can log in to your internet banking portal, and search for ASBA services or IPO.
In case of SBI, this is how it looks like
Click on e-services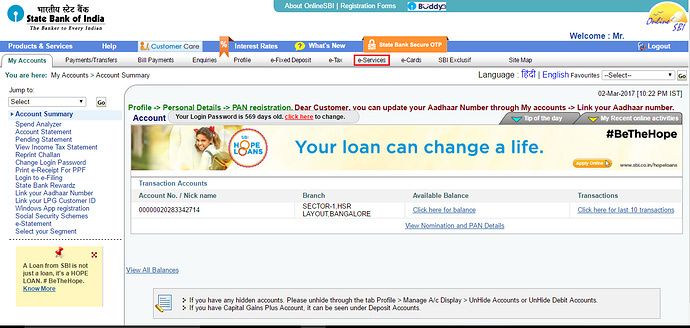 Select Demat & ASBA services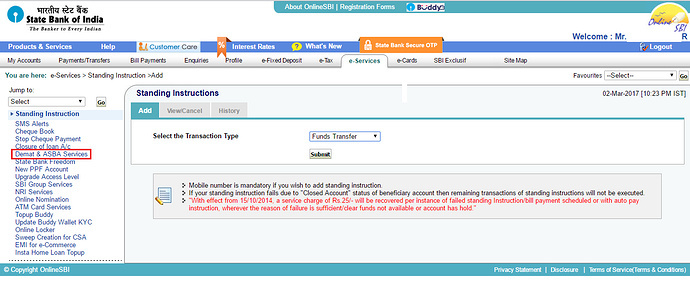 Click on IPO (Equity)



And you will be able to see the open offers here. In the next step, you will be asked to fill in the personal and the bid details to complete the process.
Offline: You can also visit the branch and submit the ASBA form by filling in details such as Name, PAN Number, Demat Number, Bid Qty, Price and other necessary details and submit the form at the bank which has been designated to act as a Self Certified Syndicate Bank (SCSB).
E-ASBA: If your bank does not have an online platform, you can download the E-ASBA forms from the NSE website182. So you can download the forms, fill them and submit them at your designated bank branch.
With the advent of core banking, it also doesn't matter where your account is held, you can submit the forms at any branch in any city.
To apply for the IPO you need to know you demat number which you can be found in the profile section of your back office Q74. You need to combine the DP ID and the Beneficiary ID. Your demat ID is a 16 digit number. Ex: 1208160012345678 (CDSL) or IN3009512345678 (NSDL accounts opened with Zerodha through ILFS).
Keep track of all the upcoming IPO's here.
What is the maximum number of applications one person can apply?
@Bhuvan
Nice and detailed explanation.
Very useful.
I think u missed a numeral in demat Id example of cdsl. In zerodha its 1208160012345678
Can Person apply for same ipo through two different banks's asba?. I read somewhere that SEBI allows a person apply five applications maximum.
CL Educate IPO is costly… so better don't apply… instead try shankara build pro… which doesnt have any peers listed…
I don't think so. Basically, you can make only one application per PAN. If you make multiple applications from the same PAN then they will be rejected.
I think the 5 applications you are referring to is the option that allows anybody to make 5 IPO applications from a single bank account in different names.