Could somebody explain how do I apply for the HUDCO IPO through my Zerodha account?
The IPO of HUDCO opens today and it is offering shares in the price band of Rs 56 - Rs 60. You can apply for the IPO through ASBA (Applications Supported by Blocked Amount). Check this post for a detailed guide.
When filling the ASBA for you need to mention your DP id, which can be found under the profile section of Q.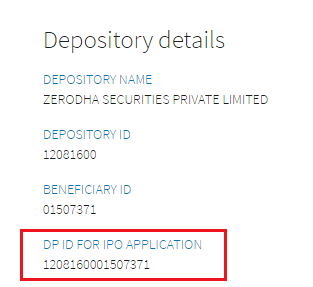 Are you applying for the HUDCO IPO?
He bhuvanesh what should be the bid in order to get ipo , there is asked 3 bid price in onlinesbi, should i enter 58,5960 in order to get ipo
The bid amount should be in the price band mentioned above. To know more about bidding check this link.
I Want to know weather all the applicant get allotment in the same price?? please clarify! I have also applied for dmart ipo but not got even 1 share even i have applied in cutoff price.
Hi Buvanesh,
I have 1 doubt. First of all, I am a new investor so unaware of these technicalities.
I am applying to HUDCO IPO through my Axis Bank account.
Now first time i submitted 2 bids of 200 lot each at 60 and 59 price (at one go)
I also later submitted 200 lot at 60 rs price.
So are the above bids valid? Can i submit more bids from the same account?
What is the limit and what are the conditions where the bids can be rejected on technical grounds?
You can make a maximum of three bids. Your bids will be rejected if you are
Applying below the cutoff price
Using the same PAN/DP ID and applying from two different accounts
Incorrect details entered
For more check this.