As most of you know today, NiftyAug14650CE had a freak trade today.
https://twitter.com/fergie_faithful/status/1428648590696583168?s=20
Below is the screenshot for this.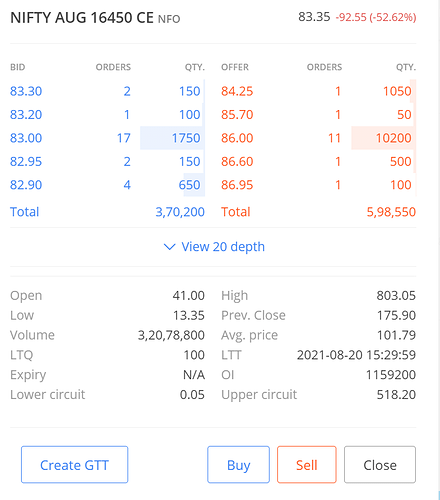 My trade was executed at the below price. I was lucky that I had only 6 points slippage instead of buying at day's high: 803.


I would have been saved if the TER (Trade Execution Range) was in place.
I would like to know how to avoid these kind of slippages. Questions to Zerodha:
Why was the order at 803 executed though Upper Circuit was
518.2?
How long did this freak trade last? I'm assuming not more than 2 seconds. This would help me to build my own system where I fetch the LTP using kite. trade every 5 seconds and then place market order. I understand that these trades are not captured in market charts of OHLC. ( Why are the OHLC values on daily and hourly charts different? (zerodha.com))
This freak trade would not be captured in ltp either if I poll LTP every 5 seconds
I understand SL-L order has other problems as I will have to monitor the positions. There could be chances that I would never get the fill. E.g. if I place buy trigger price as 135 and buy limit price as 140 and the option jumps to 141 and stays there, then my trade would never get filled. Is there any other alternate way I could avoid these kind of freak trades?