First of all - Let us understand what is Bollinger band squeeze... Stockcharts.com  has nicely explained this..
Here is the link - and screen shot of that...
http://stockcharts.com/school/doku.php?id=chart_school:trading_strategies:bollinger_band_squee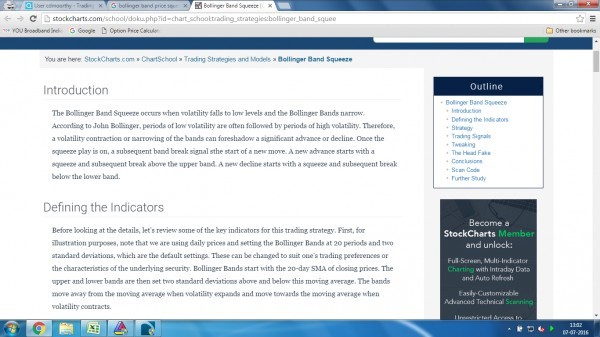 Now how to find out BB squeeze.?. because  one need some kind of parameter to compare  the gap between bands - that should be lesser or greater than that..
Here,  I use ATR..
If the BB gap is lesser than ATR then there is squeeze..  AFL will filter it out.
You can use any other parameter if you find it more logical or acceptable... No compulsion to use only ATR only.
Also I spiced it up with RSI....  Suppose if BB Squeeze is setup is found when RSI is at the bottom some where below 30.. then probabilities of highly profitable breakout on the upside would be there..
Again.. this is just a probability only... Risk is still there.
This BB squeeze setup filtering AFL was published and shared in public to all during November 2014.. in my blog mayacapitalmarket.
Screen shot is attached: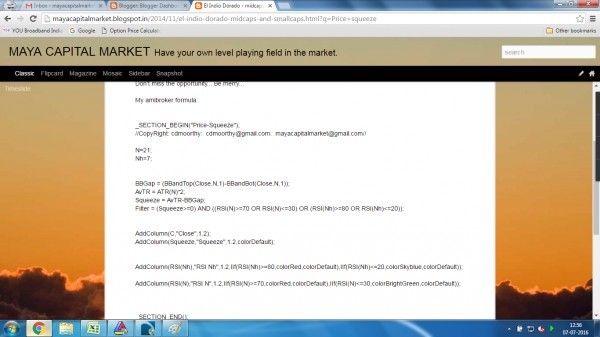 _SECTION_BEGIN("Price-Squeeze");
//CopyRight: cdmoorthy:  [email protected]:  [email protected]//
N=21;
Nh=7;
BBGap = (BBandTop(Close,N,1)-BBandBot(Close,N,1));
Squeeze = (ATR(N)*2)-BBGap;
Filter = (Squeeze>=0) AND ((RSI(N)>=70 OR RSI(N)<=30) OR (RSI(Nh)>=80 OR RSI(Nh)<=20));

AddColumn(C,"Close",1.2);
AddColumn(Squeeze,"Squeeze",1.2,colorDefault);

AddColumn(RSI(Nh),"RSI Nh",1.2,IIf(RSI(Nh)>=80,colorRed,colorDefault),IIf(RSI(Nh)<=20,colorSkyblue,colorDefault));
AddColumn(RSI(N),"RSI N",1.2,IIf(RSI(N)>=70,colorRed,colorDefault),IIf(RSI(N)<=30,colorBrightGreen,colorDefault));
_SECTION_END();
Disclaimer:   This is for educational / entertainment purpose only.  No liabilities what so ever will be accepted.  Please trade with strict stop losses.