Seems like you are right. I just don't like how they deal with personal info. Thanks for your time.
I know some People who have closed their Trading Account But Still they Received msg and calls to Open Trading Account in different different Brokerage Houses.
Got it, I will contact the customer support for my satisfaction. Thanks for taking time to respond:slight_smile:
After opening Zerodha account and started investing in equities/MFs via coin, I started getting lots of daily stock suggestions. As I know Zerodha does not send stock suggestions but why am I getting these. I can say for sure that it was only after opening the account and trading that I started getting these sms. Is this because Zerodha for kyc compliance had to share my cell number with SEBI, the companies that I have invested and with the MF companies etc that I am getting these? Is there a way to stop them. It is very annoying. I get like about 5-10 sms everyday. I have not registered my cell number in any other stock related websites. Is anyone else facing this issue?
All the messages I receive are not from numbers. They are like AD-EQUITY AD-MIDCAP AM-STAXIS HP-MMTIPS etc. I never got any calls. It is very annoying. I am already part of DND(do not disturb).
Don't know how these idiots get the numbers and start spamming, did anyone from here got any information regarding these spammers so that they can be sued or beaten like anything.
I reported these messages to TRAI through TRAI DND app and i got the reply from airtel that no action have been taken as these messages are not promotional messages
Same. I too had reported to TRAI and SEBI. Received the same response from TRAI. Haven't heard from SEBI yet. Blocking on Truecaller is the only rescue so far.
Hi ,
Today i got call from a company and lady asked me , " are you trading ?" when i said ,"no" she specifically told me that i have data that you traded with these these shares few days back . When i asked how did she get this data then immediatly she disconnected it .
I dont have any account in any other demant account and only trade with zerodha . i am suprized how did this info reached to them ?
After opening my account at Zerodha I'm constantly getting promotional emails and calls especially from Bangalore location.
Its has nothing to do with Zerodha.
The more you Goes in to digital world it's start.
On an Average I get 30-40 Promotional E-mails.
Like this Everyday.
Open Demat account with etc etc
Take credit card in etc etc bank
Stock market Tips providers
E-commerce
Won lottery of 100 Million $ ( evergreen)
FIRSTLY, At the right price everything is for sale.
SECONDLY, Have you signed up for free news letters, webinars, trade signals, tips, strategies etc etc ?
Look at this Thread, All those participants will be asking this same question very soon.
People do all silly things and blame it on the Broker.
Also, allegedly all the Aadhar details were sold at discount rates of 500 Rupees at Chandhi Chowk, Khan Market and Burma Bazar. With just the email address available publicly on Forums and YouTube comments, its easy for unregulated marketing companies to do a reverse search and get your mobile number , DOB etc attached to this email address.
Still a Trader keeps wondering how they get these messages and calls.
BE WISE and TRADE WISE.
Here's the solution that worked for me.
I am with AirTel, and started receiving 6-7 messages each day with such stock tips.
Being on DND registry, I raised a (written) complain to 121@in.airtel.com. They asked for screenshots which I promptly provided. Took 3 follow-ups over 13 days, and a warning to escalate it to Nodal officer and to TRAI which solved the problem.
Try it if you are with AirTel.
Hope this helps.
The same thing on Forceful Advisory started with me just after I opened my account with Zerodha. Definitely there is some one in Zerodha who has been leaking customers' data.
Nitin Bro- You should take utmost care to protect the interest of your customers otherwise time will come many or all of your customers will start leaving you. Hope a reaction from NITIN Bro in this regard.
Zerodha has nothing to do with this. I am receiving these sms way before opening an a/c with zerodha. I strongly believe the data is leaked from exchanges and not brokers.
How to stop the unsolicited stock tips SMSes? well, Bro, it can stop if somehow FM Arun Jaitley's mobile number get into their database!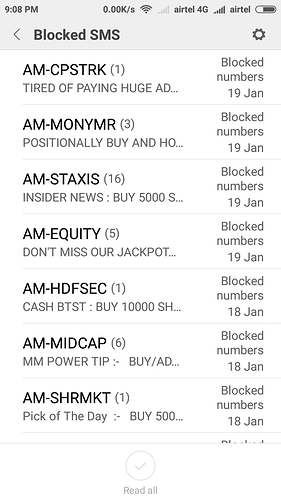 Even I am also getting flood of SMS for investment…we do agree Zeroadd can't leak.but at the same time you can't wash your hands saying that's not your responsibility…why don't you take this issue with nsel , saying your customers are complaining about leakage of there contact number which you have submitted to NSEL.
Looks like the entire Stock Market Operators in India are after you money.
Keep tying this solution, It worked for me after about a month. No SPAM messages since last 2 months.