While trying to file my ITR-3 through Income Tax Website, I'm getting this below error.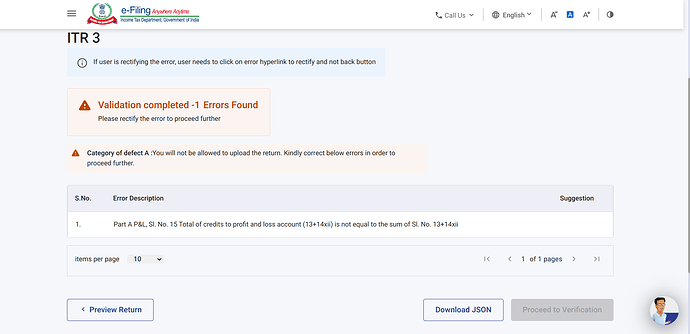 Part A P&L, Sl. No. 15 Total of credits to profit and loss account (13+14xii) is not equal to the sum of Sl. No. 13+14xii
During the previous year I have Intraday trading and some profits. I have maintained my books of accounts and I don't need to opt for 44AD (Presumptive Taxation).
I have filled all the necessary schedules applicable to me and also not applicable to me.
But this error is haunting me as I have tried almost everything possible.
If anybody knows the solution to this problem then kindly guide me.
I have tried entering the intraday turnover and profit therein in Part A Trading Account. This didn't work.
I also tried entering intraday turnover and profit in Part A P & L Account, special column given for No Accounts Case.
During the both the instances I'm getting the error.
I'm not interested to file the Returns from Quicko because Quicko is not displaying some sections under which we can report exempt income.
I also know that a quick solution for the above problem is not mentioning anything in trading account and straight away declaring my Intraday profits in P & L account and then marking it as profit from speculative business in next section named Computation of Income from Business or Profession.
Infact this is what I did previous year but this year I want to file my return with declaring the turnover in intraday but I'm unable to do so because of the above error. Simply said IT portal is not taking the profit from Trading Account to final profit and loss figure.