NSE is introducing trading in cash settled Natural Gas Futures contracts with a contract size of 1250 mmBtu from 15th May 2023 onwards in its Commodities segment. You can check the announcement from the exchange here

---
About Natural Gas:
The Henry Hub Natural Gas, named after the natural gas pipeline located in Louisiana,USA, which serves as a benchmark for natural gas pricing in the United States and around the world. It is the delivery point for natural gas futures contracts traded on the New York Mercantile Exchange (NYMEX). It is one of the most traded natural gas futures contracts in the world due to its price transparency and higher liquidity.

Natural Gas is found in deep underground rock formations or associated with other hydrocarbon reservoirs in coal beds and as methane clathrates and is used mainly in the industrial, commercial, transportation, and household sectors. Natural gas is an essential energy source, and its demand is continuously increasing globally.

Natural Gas in India has strong linkages to the Global Natural Gas prices as India's Consumption growth has been satisfied through liquified natural gas (LNG) imports whose share in the country's natural gas consumption is approx. 50%.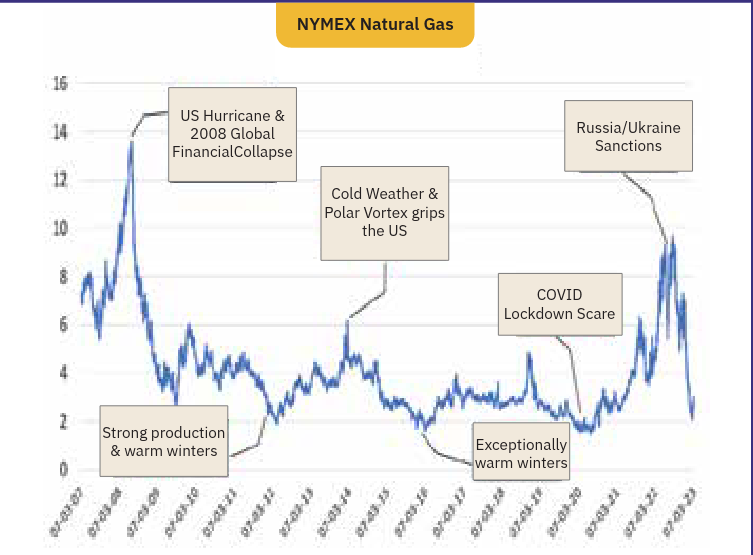 ---
Factors affecting market fundamentals
International gas inventories
Economic factors: recession, inflation, crisis
Speculation, Hedging & investment
Geopolitical actions
Weather conditions
Industrial & residential demand
---
Contract Specifications
Product Parameters
Details
Underlying
Natural Gas
Instrument Type
Futures Contract (FUTENR)
Product
Natural Gas Futures
Symbol
NATURALGAS
Description
NATURALGASYYMMM
Contract Listing
15th May, 2023
Contract Start Day
As per contract launch calendar
Last Trading Day (Contract Expiry)
As per contract launch calendar
Trading Period
Monday to Friday
Trading Session
Monday - Friday: 9:00 am to 11:30 PM/11:55 PM (based on US daylight saving time)
Trading Unit
1250 mmBtu
Max. Order Size
60,000 mmBtu
Tick Size (Minimum Price Movement)
Rs. 0.10 (10 Paise) per mmBtu
Profit/Loss per tick
Rs. 125
Daily Price Limits
The base price limit shall be 6%. In case the daily price limit of 6% is breached, then after a cooling off period of 15 minutes, the daily price limit will be relaxed upto 9%. In case price movement in international markets is more than the maximum daily price limit (currently 9%), the same may be further relaxed in stages of 3% beyond the maximum permitted limit, and informed to the Regulator immediately
Initial Margin
Minimum margin based on volatility category or based on SPAN whichever is higher.
Extreme Loss Margin
1%
Additional and/ or
Special Margin
In case of additional volatility, an additional margin (on both buy & sale position) and/ or special margin (on either buy or sale position) at such percentage, as deemed fit; will be imposed in respect of all outstanding positions.
Maximum Allowable
Open Position
For a member collectively for all clients: 6,00,00,000 mmBtu or 20% of the market wide open position, whichever is higher. For individual clients: 60,00,000 mmBtu or 5% of the market wide open position, whichever is higher.
Quality Specification
Natural Gas meeting the specifications set forth in the FERC approved tariff of Sabine Pipe Line Company.
Due Date Rate
(Final Settlement Price)
Due date rate (FSP) will be the settlement price in Indian Rupees. For example, on the day of expiry, if NYMEX Natural Gas (NG) front month contract settlement price is $6.935 per mmBtu and the last available RBI USDINR reference rate is 82.7150, then DDR for NSE Natural Gas contract would be Rs. 573.60 per mmBtu (i.e. $6.935 * 82.7150 and rounded off to the nearest tick.)
Settlement Mechanism
Cash settled
---
Contract launch Calendar
| Contract Month | Contract launch date | Contract expiry date |
| --- | --- | --- |
| June 2023 | 15th May,2023 | 27th June,2023 |
| July 2023 | 15th May,2023 | 26th July, 2023 |
| August 2023 | 26th May,2023 | 28th August,2023 |
| September 2023 | 28th June,2023 | 26th September,2023 |
| October 2023 | 27th July,2023 | 26th October, 2023 |
| November 2023 | 29th August,2023 | 27th November, 2023 |
| December 2023 | 27th September,2023 | 26th December, 2023 |
| January 2024 | October,2023 | January,2024 |
| February 2024 | November,2023 | February,2024 |
| March 2024 | December,2023 | March,2024 |
| | | |
| April 2024 | January,2024 | April,2024 |
| May 2024 | February,2024 | May,2024 |
| June 2024 | March,2024 | June,2024 |
Note:
Dates of launch and expiry for 2024 contracts will be announced later by NYMEX
NSE's Natural Gas futures contracts will not be available currently for trading on Kite. We're working on making it available and will keep you posted.