Found this UBS report which juxtaposes investing and football. It's a really good read.
Public debt as a % of GDP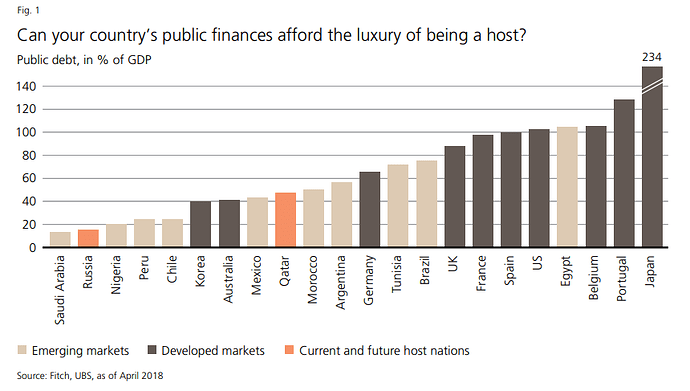 After South Africa and Brazil, Russia will be the third emerging nation to host the tournament. If we add Qatar to the list, the host in 2022, the question can be asked whether great soccer nations such as Germany, France, England, Italy, or Spain have become tired of hosting the tournament, less appealing as hosts, or, whether they simply have run out of money to treat themselves to the luxury of such a costly endeavor.
What investors can learn from successful football teams
Agility. Balance. Calm. Three attributes that complement teamwork and can transform a successful team into a future champion. And also attributes that offer important lessons for investors to learn from successful football teams.
Agile teams can adjust their play to different opponents. Playing against a team with a very defensive lineup requires different tactics than against a free-flowing attacking team
Investors face similar challenges. The last 10 years have seen an unprecedented change in monetary policy tools and frameworks. The desire to stimulate growth and to fight deflationary forces has resulted in many policy inventions. Investors first had to adapt to the powerful force of quantitative easing programs. Equity markets reached new highs, bond yields new lows. Those who adjusted swiftly made bigger gains.
Today, after almost a decade of policy support from the world's major central banks, the pendulum has started to swing in the other direction. The US Federal Reserve has been hiking its policy rate for a while, and the European Central Bank will likely end its quantitative easing program this year. This is occurring amid rising volatility and highly correlated financial assets. Investors should consider alternative assets and be more nimble in adjusting their allocation.
Germany, Brazil, or Spain. The likelihood of one of these three teams winning is 60%, according to our calculations.