Tarsons product limited subscribed 77.5 times …IPO was for 717 Crores …received bids worth 55625.98 Crores.
Khelo India khelo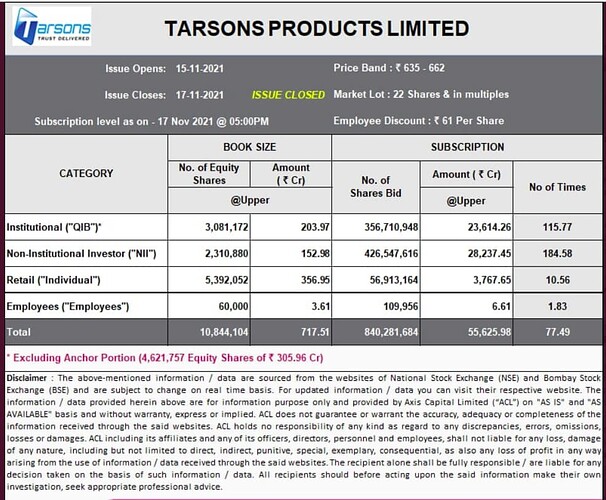 Khelega india ! tabhi to jeetega india

you have raised a very valid and pertinent question for debate and discussions.
I have been reading about 'calling the top', calling every other price rise as a 'bubble' , etc. etc. …you get the drift.
I wonder what is the definition of this so called 'bubble'. In this case, does 77x oversubscription warrant a characterization as a bubble or at what level does the ipo becomes a bubble? Why does the word 'bubble' bear a negative connotation?
For that matter, most of the discussions around bubbles is generally focussed only on how high the prices are or how much people are buying assets. This is also usually discussed keeping all other factors constant just like an economist would do. This makes for easy argument but I believe is fraught with fallacies.
In an inflationary world, wouldn't buying assets be the best thing one can do? And if others are already doing it, it is bound to raise prices. This is just the product of the economic policies being adopted by the central banks world over.
I invite others to share their views.

pretty vague definition in terms of what is a 'rapid escalation of market value' and also not clear if bubble can be confirmed by the rise in value alone or only after there is a 'crash'?
Bubble may not be defined but it can b seen n felt like…if 2 month old investor advises us on which stocks to buy and says trgt 100% per annum or say pan wala or someone who is not aware start talking and recommending stocks…thats one sign …
personal opinion aside, Japan's stock market touched highs 30 years back which it still couldnt cross…same with tech bubble in 2000…infy from highs underperformed index for years…wipro touched highs of 2000 only in 2021…thats bubble
Bubbles isn't so much about people irrationaly participating in long term investing. It's more of people rationally moving towards short term trading to capture momentum that is feeding on itself.
here's one perspective:
"…bubbles are booms that went bad. Not all booms are bad…"
the IMF begs to differ. They are looking at variance-bounds test, integration/cointegration tests, regime switches, time-varying discount rates and systemic or macroeconomic risk among others.
Identifying Speculative Bubbles
If my barber were to ask me for stock tips or which IPO to invest in, does that really give me any actionable signal? How does one go about quantifying the implications? All this sounds good for a coffee table discussion or a news channel panel but is it really helpful?
Just for information
Paytm is getting listed today



Best of luck to those who gor the shares
Brokerage firm Macquarie Research has initiated an underperform rating on Paytm with target price as 1200 (40% below listing price)…interesting that it comes on date of listing
Paytm IPO is the exact definition of bubble.
Saying this on hindsight and since the stock tanked by 27% on the listing date. On the contrary if it had doubled like Nykaa or other stock, it would be defined as "Fundamentally Great Stock". What is surprising with PayTm is although retail investors did lose, worlds best anchor investors lost even more. Wonder how this happened when the best of analyst are with them. One of the surprising anchor investor is Canada Pension Plan Investment Board. It is just beyond me as to how a Pension Fund can invest in a loss making company…
I started reading about a new metric called "price to sales" when these loss making companies were being listed. In one of the CNBC TV news anchor was shy to even talk about PE of Nykaa on the debut date as it was 1803 x.
What is sad is these companies are being compared to well established profit making companies…
Edit: This makes me wonder if market capitalization has any value or should investors go for how much market share each company has in their respective Industry.
My thoughts:
There are always outliers in the market ; whatever models , data, big name backs it , it just become redundant with price action. 'Price and market is always supreme over any analysis and big funds backing'.
Ratios , models , benchmarks are for only point in time , things become redundant sooner than we think . So Adapt and build your edge/system suited for that point in time /industry.
Big houses have highly diversified operations and hedges . Its not about how many number of time you are right or wrong its about how well you can manage your books/risk in long run.
Fundamentals changes /disruptions are happening in much faster pace than before so should our investment and trading strategies as well. Hence , i believe in price actions strategies above anything now .
I agree. And this makes me even more inclined to think that all these discussions about bubbles is just that. a discussion. This adds no value to how to optimize a portfolio or trade strategies but only creates a distraction.
Since you have the benefit of hindsight, I would like to take the liberty of a hypothetical (on a lighter note though). What happens in a scenario where Paytm goes on to rise 100% from here onwards in the next 30 days? Maybe we will say that the bubble continues. This is so random.
It's become much easier to apply for IPOs for an average retail investor. Earlier, you had to get the forms, fill it up and then submit it to the concerned office. Also, the forms would get rejected for the slightest of mistakes.
Now, with UPI, it literally takes less than 2 mins to apply for anyone with smartphone and an online demat account. So, convenience has led to so much of oversubscription in the IPOs.
For the HNIs, the funding costs are lower today than what they were a few years back.
Startup investors are getting a good exit and general public is happy to get a good listing gain. Everyone's happy! One day the music will stop and the bubble will burst. It's make merry until the sun shines!
Well , one should Enjoy the party until it last . Every thing in life has expiry 'good time or bad time' same goes to the cycle of bubble. so just enjoy the ride until it last !
Hey @Suyash.K all valid points. I notice though that you have listed only arguments in favour of the music to continue yet you conclue that the music will stop. Could it be that this is the new-normal or the new benchmark and that comparing it to previous times without taking into considerations other paradigm changes would result in a flawed perspective?
If we stay in a low rate environment, then yes this is a new normal and the frenzy will continue. Technology is deflationary and rates have been trending down for decades but it just feels that things are getting a bit overheated now.
If at all there is a bust, I can think of two possibilities - one, China invading Taiwan which leads to a total supply shock since that's where the world's supply chain is. And two, there could be a continuous rise in oil prices. Everyone's talking about EVs and renewable energy but the current NG crisis could just have been a trailer.
The term bubble is just used everywhere.
When prices go up – Bubble!!
When prices go down – Bubble!!