This recent circular from NSE talks about suspension of trading in CGPower and Coffeeday. What are the implications? @siva
Listing norms require companies to regularly submit their financial statements to the exchanges on which they are listed.
CG Power and Coffeeday have failed to submit financial results for the last two quarters. In case the companies are unable to submit the results to the exchange by Jan 29th, 2020, trading will be suspended from Feb 3rd, 2020.
If the companies are suspended then only on the first trading day of every week, trading will be allowed in the scrips for the next six months (starting from Feb 24th, 2020).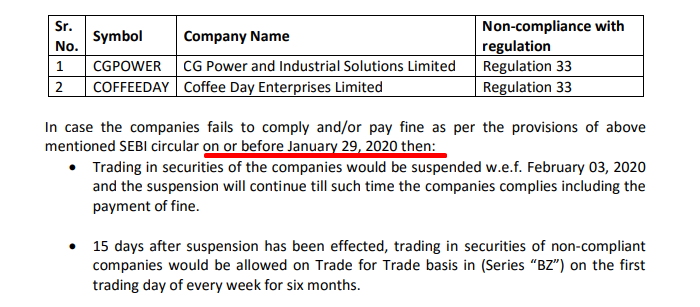 What can you do if you're holding these shares?
In case you're holding shares of CG Power or Coffee day after the suspension has been effected, and want to exit, you can place an order to sell on the first trading day of every week starting from Feb 24th, 2020. If the shares are hitting lower circuits, and buyers are not available, your order may not get filled. Read more.
Once these shares are completely suspended from trading, you will not be able to buy or sell them on the exchanges.
Wat will happen after 6 months from Jan 20 ?
Incase the company is suspended: Starting from Feb 20th, it will be only available for trading every first trading day of the week.