As market behaviour turns uncertain, do you think profit booking is the right step?
The key questions you need to ask yourself are:
Do you have an urgent financial need for cash or liquidity?
Are you worried about the performance of your investments?
What are your longer term wealth creation goals?
If you are looking for longer term wealth creation, profit booking is not the answer. We have a better solution, invest in a Value-based equity fund.
What are Value funds?
Value funds are funds that follow a value investing strategy (also known as the margin of safety approach to investing). They seek to invest in emerging companies with high growth prospects. These are good companies with great managements that will likely prove to be winners in the coming years. Value Funds have the potential to restrict the downside in a bear market, and reasonably outperform in a bull market.
At Quantum, Value Fund Managers of Quantum Long Term Equity Value Fund (QLTEVF) truly believe that ignoring short-term market movements and waiting patiently for value to emerge has allowed us to generate good risk adjusted returns over the long term.
The core focus has always been to look for high-quality stocks and add them to QLTEVF's portfolio with a predetermined Buy and Sell limit. The limits are decided based on the sustainable cash flow generating ability of a company and its long term valuation bands. Once a stock hits our buy limit it finds its way into our portfolio and once it hits our sell limit it exits our portfolio.
The Covid related correction helped the investment team buy great businesses at reasonable valuations to be a part of the QLTEVF portfolio. It is expected that these companies will not only survive but also thrive in the long term.
The Scheme's holdings during the ongoing virus induced economic uncertainty in sectors such as Healthcare (7.45%) and IT (14.43%) has positively contributed to its performance as on October, 2020.
Limiting downside risk remains cardinal for QLTEVF to make equity investing stress-free.
With Economic Recovery on its way, let's look at how the QLTEVF's Portfolio is strategically positioned:
High-quality stocks acquired at reasonable valuations during the market correction phase
Rebalanced portfolio in sectors which have the potential to last the downturn
Adequate cash holding to add new names in case of correction
Below are the Performance numbers of Quantum Long Term Equity Value Fund that denote long term investing is worth the wait.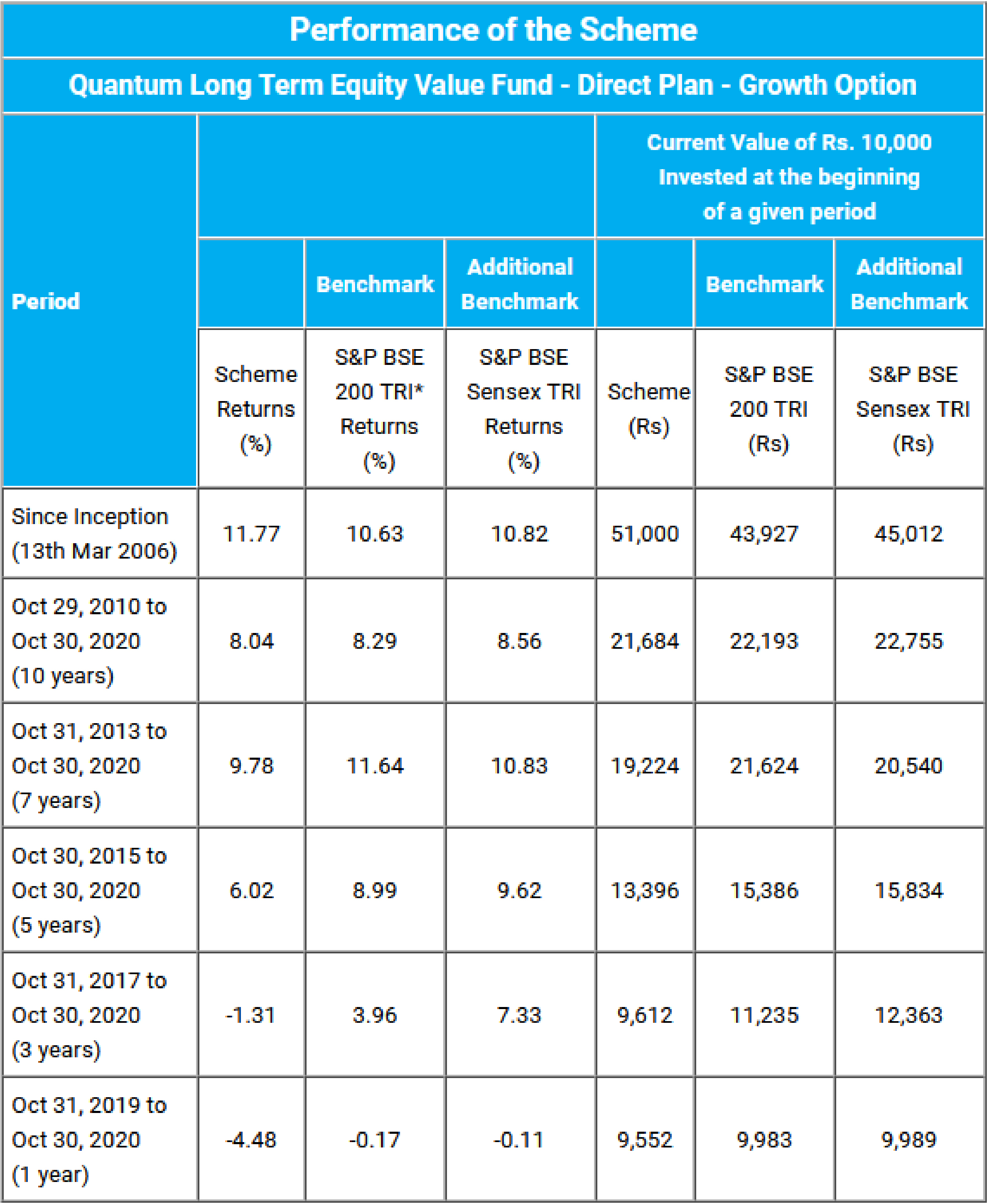 Note: Past performance may or may not be sustained in the future.
Performance updated as on October 31, 2020.
Load is not taken into consideration in scheme returns calculation. Different Plans shall have a different expense structure. Returns are net of total expenses and are calculated on the basis of Compounded Annualized Growth Rate (CAGR).
*with effect from February 01,2020 benchmark has been changed from S&P Sensex TRI to S&P BSE 200 TRI. As TRI data is not available since inception of the scheme, benchmark performance is calculated using composite CAGR S&P BSE 200 index PRI Value from March 13, 2006 to July 31, 2006 and TRI Value since August 1, 2006.
The Scheme is co-managed by Mr. Atul Kumar and Mr. Nilesh Shetty.
Mr. Atul Kumar is managing the scheme since November 15, 2006.
Mr. Nilesh Shetty is managing the scheme since March 28, 2011.
To view other schemes managed by Mr. Atul Kumar and Mr. Nilesh Shetty, please click here.
Some key takeaways:

Investment in QLTEVF helps in generating good risk-adjusted returns in the long-term and avoids the pressure of timing markets and the resultant gains.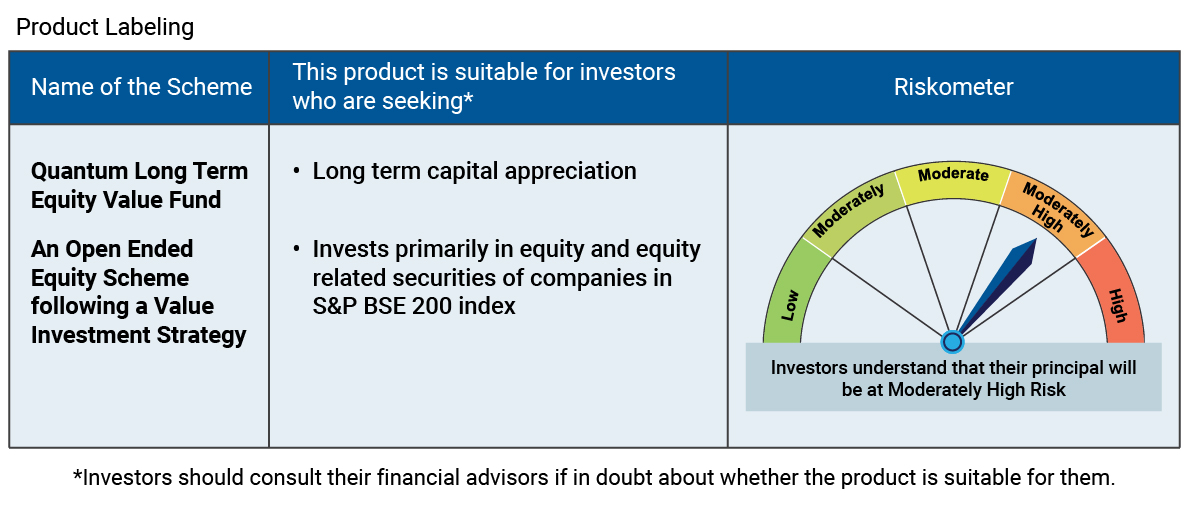 Disclaimer: The views expressed here in this Article / Video are for general information and reading purpose only and do not constitute any guidelines and recommendations on any course of action to be followed by the reader. Quantum AMC / Quantum Mutual Fund is not guaranteeing / offering / communicating any indicative yield on investments made in the scheme(s). The views are not meant to serve as a professional guide / investment advice / intended to be an offer or solicitation for the purchase or sale of any financial product or instrument or mutual fund units for the reader. The Article / Video has been prepared on the basis of publicly available information, internally developed data and other sources believed to be reliable. Whilst no action has been solicited based upon the information provided herein, due care has been taken to ensure that the facts are accurate and views given are fair and reasonable as on date. Readers of the Article / Video should rely on information/data arising out of their own investigations and advised to seek independent professional advice and arrive at an informed decision before making any investments. None of the Quantum Advisors, Quantum AMC, Quantum Trustee or Quantum Mutual Fund, their Affiliates or Representative shall be liable for any direct, indirect, special, incidental, consequential, punitive or exemplary losses or damages including lost profits arising in any way on account of any action taken basis the data / information / views provided in the Article / video.
Mutual Fund investments are subject to market risks, read all scheme related documents carefully.