So I have a couple of smallcase and recently I was reading through my account statements for last FY and I realized there is a bug in the smallcase rebalance.
Allow me to explain my finding with an example:-
Consider you have 2 smallcases - smallcase A and smallcase B.

Smallcase A has 10 shares of company X in the portfolio.

During portfolio rebalance of small case A, it advices to sell 5 shares of X.
You do the rebalance and it sells 5 shares of X.

Now to rebalance smallcase B, it advices you to buy 5 shares of X.
So you rebalance the smallcase and it buy 5 shares of X at market price (which you were already holding earlier, which you just sold during rebalance of smallcase A, which was bought at much lower price)

In this process you lose on money, you pay for the charges and it is not a profitable transaction as the sale may be eligible for STCG/LTCG.
So smallcase is NOT SMART enough to adjust the shares between small cases in such cases during rebalance. To make it more efficient and profitable for the investor. Forget being efficient, for the sell and buy of shares in rebalance process, Zerodha is making money, but the customer is actually at a loss.
I confirmed the same with smallcase customer support.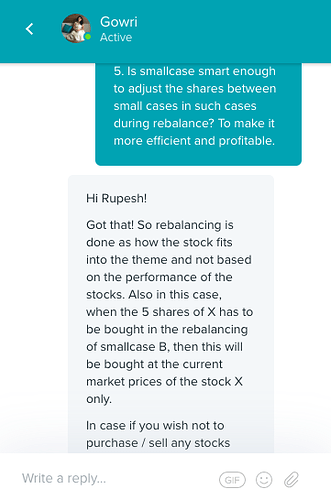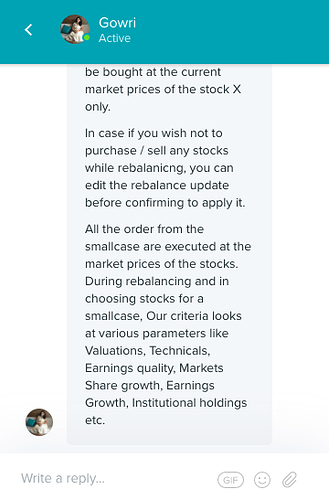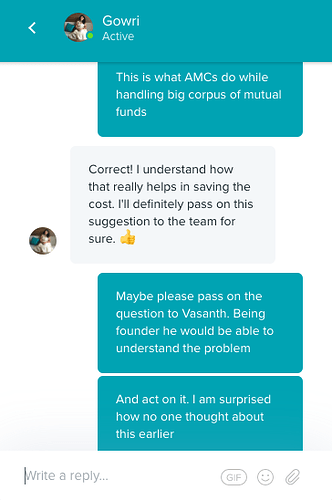 This needs to be fixed ASAP since the next rebalance is on 31st May 2018.
Until this bug is fixed, all investors should be careful about rebalancing their smallcase.
Suggestion:
"Rebalance All" should be a feature that identifies if there is a smart adjustment required between the smallcase portfolios. E.g. smallcase A has to sell X shares and smallcase B has to buy X shares, it should just be transferred from from A to B. Instead of sell and buy of shares.
So only the name tagging of those shares change instead of buy and sell.
Also, it should check the buy price of the pre-existing share to not make it a sell at loss. Or rebuying previously owned share at a high price.
CCing the smallcase team members I found upon searching: @vasanthkamath, @Anugrah
@nithin since you have partnered (maybe invested) in smallcase, please look into this matter and intervene if need be because this is causing loss to the investor which is against Zerodha's values.
Thanks,