good job Team zerodha .
i'm waiting for "price alert" feature
Also please bring back the options to save the chart image, like it was used to be in the previous Kite versions where you save an image of the chart as jpeg. But the new versions doesn't have this. So its a bit inconvenience to press Print Screen, crop the snapshot and then save the chart instead of just directly saving it from Kite itself with a button click.
Dear @nithin When is the final launch of Kite 3?
Kite is an amazing browser-based trading platform. In terms of functionality + speed it is not less than any app based (desktop) platforms. Great work by Zerodha Team!! ZERODHA is not only ECONOMIC, it is the BEST trading platform available in India.
Thanks.
All the new updates in kite are fantastic. but kindly include;
List item
OCO order facilty with SL-M option in nse equity / nfo & mcx segment. This will be very very helpful for traders who are working professionals as well
@nithin
SIR I HAVE ENCOUNTERED VERY BIG PROBLEM IN DATA AVAILABLE ON KITE.
I JUST CASUALLY COMPARED IT WITH DATA AVAILABLE ON MT4, FIRST CANDLE HIGH LOW WAS A MUCH DIFFERENT, THEN I COMPARED IT WITH SOME OTHER SOFTWARES EVEN NSE DATA,
I AM SORRY TO SAY KITE SHOWS INVALID DATA WHICH CAN BE VERY DANGEROUS FOR A DAY TRADER.
PLZ MAKE IT AS GOOD AS YOUR SERVICE
THANKS
There is lack of not showing the % change occured in that day when we see the crosshair on a partticular day. From the chart of zerodha we can not get the information about how much % price increase/decrease was there on that day.kindly make this feature available on zerodha chart
@nithin Please add square off all in the new version of kite.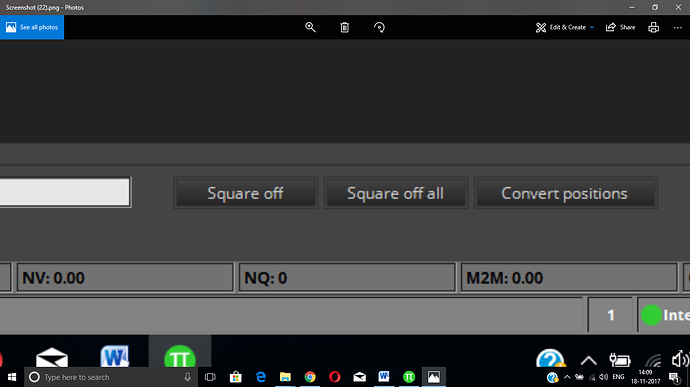 unable to view my studies in the chart from my saved view.
@nithin
dont trust me then check first 15 min high low, any day nifty and bank nifty,
the error will be clear to you,
i want you to settle the error because i am a fan your services.
Vijendar, I have explained in my answer here, why two charts can't exactly match. Check it out.
Only one problem for me, also pointed out by many above,
No direct trade option when multiple chart windows is open, please do something about it.
Thanks
Please check the shortcut for order on charts, the order window is popping only once
@Nitin
OK SIR BUT HOW TO TAKE STARRTING RANGE. AS I TAKE 15 MIN. WHEN THERE IS DIFFERENCE WE FIND IN DATA EVERYWHERE.
PLZ SUGGEST.
Hi Nithin,
Need 4hr chart option in Multi timeframe mode.
Pivot points are squeezing the chart.Please look into both these things.
Is there any plan replicating what Fyers is providing through Desktop software for doing Data analysis. zerodha is concentrating mainly on charting analysis.
The Orders tab has become a little complicated as the modify and cancel is not directly on the order. It has become 2 click. Is there a way to customize what comes on main order page ( against each pending order )?
Can you please have ability to chart multiple stocks on the charts at same time. would help in finding out relative performance.
Team,
Can you please add the convert symbol which was there in Kite 2.0 to switch between percentage change and actual change in market watch. And also for candle sticks can you add % change to OCHL values. Thanks!