I am trading in options for past 4 months.
Intially, i started buying options in 1 or 2 lot Quantity(Trading capital = 30 to 50 k).
Now ,i increased to 16 lot Quantity(Trading Capital =1.6 Lakh). I buy options with minimum 7 to 10 days left to expiry day.But Today i OverTraded with 60 Lot (16 lot +16 lot+28 lot) and end the day with ₹ 14600 k profit.But one Trade had ₹ 11 k profit .Other Trade were small profits,i exit the Trade due to Fear of loss.
I trade only in Nifty 50 options.
Can Anyone share there experience about lot size and Trading Capital, Expected Return on Investment (ROI) percentage .
Note:
My Expected ROI is 5 % or minimum 1 or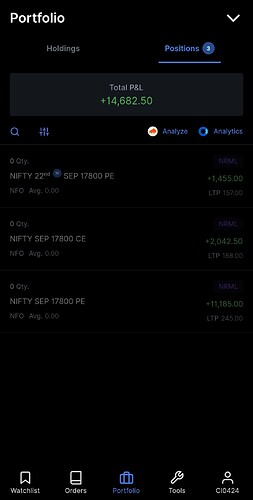 2k per day
My Actual Returns
May = ₹ +500
June = ₹ - 9800
July = ₹ -12800
August = ₹ +9700
September = ₹ +17800