Hi
I am holding hedged positions in VEDL(Refer attachment) 351.5 PE long and 356.5 PE Short. Both are ITM.
There is no liquidity and hence I am unable to square off yet.
As both are deep ITM, if it expires in ITM, I dont have delivery obligation and it will be a net off. In that case my losses will be limited to 7.5K + minimal exchange /broker charges.
I am worried if RMS team may square off my positions in the meantime.
I have added funds and can add if needed. However I am not very sure how much I got to keep to ensure there is no square off till expiry.
Can anyone please help me with this detail? and any tips to hqndle the situation with minimal loss.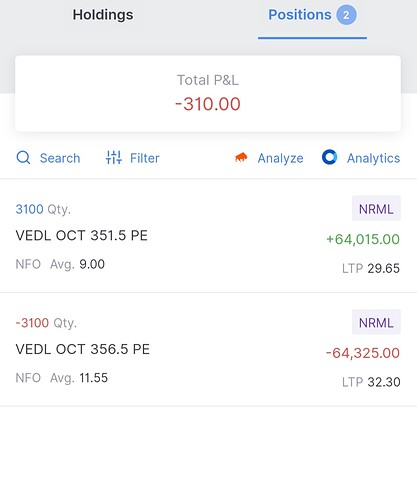 Thank you.
Expecting a positive reply