Ok, don't know how you jumped to this conclusion.
How do you report it when there no sender number visible?
These messages are usually in the form of "BT-xyz"
Download the Trai DND app from the Playstore/App Store. Choose the 'Report SMS UCC' option to report such messages.
Please go through my previous/ old post about this kind of messages, i have 2 mobile numbers , but i am getting spam messages only on mobile number , which is linked to my Zerodha trading account /Demat account. i tried to complain previously "TRAI" Centralized Public Grievance Redress And Monitoring System (CPGRAMS) , https://pgportal.gov.in , simply all are waste !!!
Did you join to any groups using that number ?
No , i never do that , be careful about scammers!!!
I never receive any phone or message on share market may be because my phone is DND plus i do not do F&O but yesterday on 30 September 2019 at 8.05 pm ,got similar message from BT-ZRODHA ?
@nithin @siva @Bhuvanesh
You can report it using the DND app

I got such message yesterday ( i never ever get from any so called financial adviser) and i am not zerodha client .
My cell no is already on DND since last many years hence i never get any such marketing call or message but yesterday i got first time in years !
I got means the data theft /purchase is from somewhere else as i am not Zerodha client but from the heading /title it is clear that the sender wants to use the goodwill /brand image of Zerodha .
Happens with all brokers.
Not everyone is comfortable allowing access to apps such as TRAI's DND, even more so recently where a lot of private information has been easily available for misuse.
Look at the message I got today. I am sure this is some spam group trying to collect our information or want to trick us to buy their services.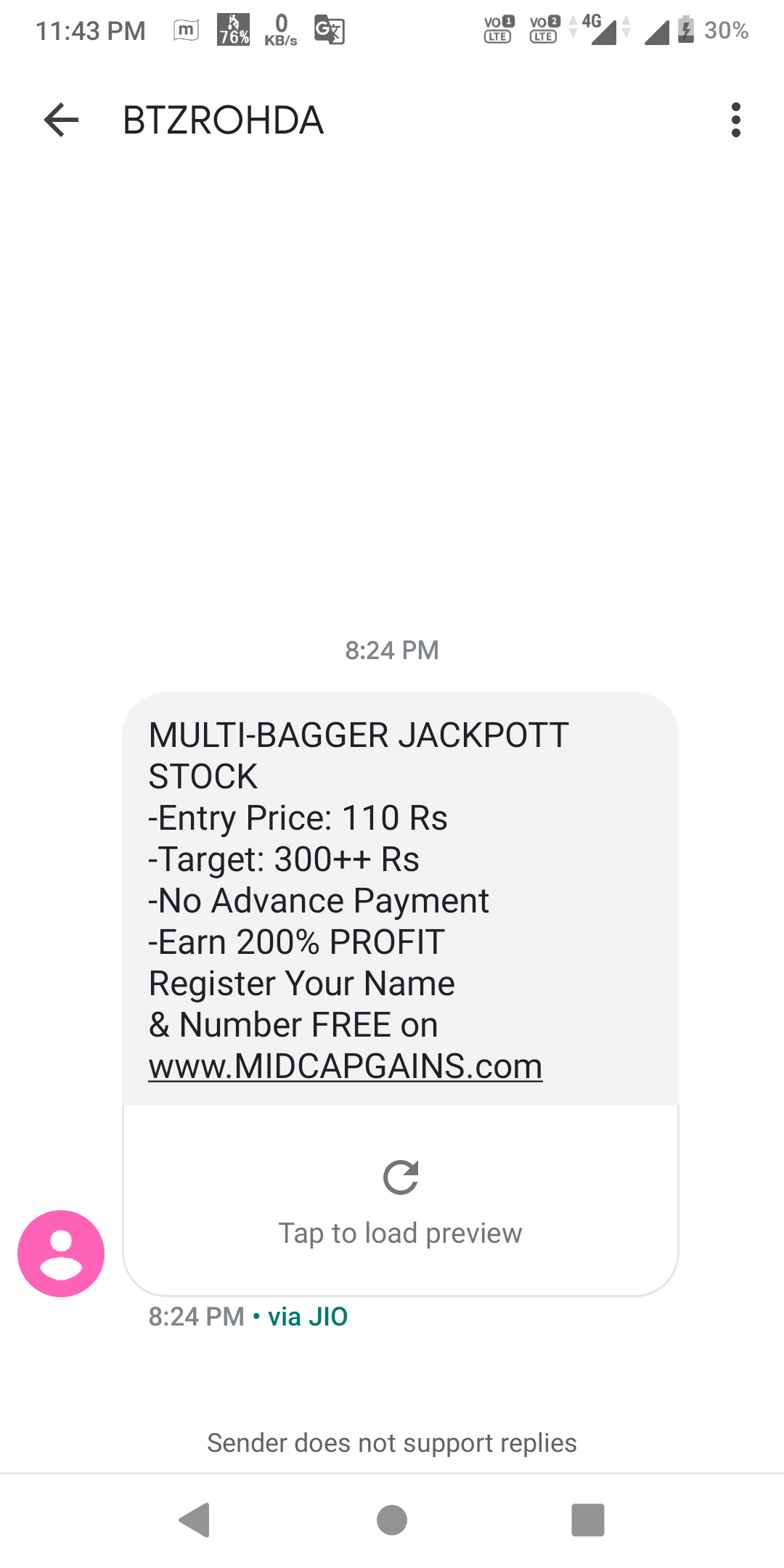 But point to remember is the server name with they send me SMS "BTZROHDA" looks liye it's from zerodha if you don't pay attention.
@siva @VenuMadhav can you create a thread here so that person receiving these kind of messages can post details here and someone from Zerodha can complaint in DND or elsewhere because everyone is not tech savvy and has knowledge or willingness to report these number.
Zerodha cannot file a complaint on behalf of the person who has received the SMS. We've started this campaign: https://fightstocktips.zerodha.com/ to bring awareness amongst people and to guide them on what they have to do to curb this menace.
I am receiving SMS from:
BT-ZRODHA
Saying:
100% SAFE MULTI-BAGGER Stock Advice
Sure Shot INTRA-DAY Tips

NEWS BASED JACKPOTT Stocks

JOIN FREE - Register Your NAME & NUMBER on www.MidcapGains.com
Just want some actions against this if it's a fraud,
If it's really from zerodha then: why are they doing this?
I have incurred a huge loss due to this MidcapGains.in from Zerodha