We saw the market go down for two consecutive trading sessions. In my last post I had indicated that the FIIs were all getting bearish. The market had closed with an evening star prior to that, a correction was coming. On Wednesday, October 18th, the downslide was expected, however the market somehow recovered, and ended on a note more positive than anticipated. The bears pulled it down the extent of -40 points, however the bulls came in and market closed flat. Later on Muhurat, market fell, and exhibited what can be called a Bearish Maribazou.
Question remains whether this was organic, or was it some big player trying to set things up for himself during the muhurat, which as we all know ended pretty badly.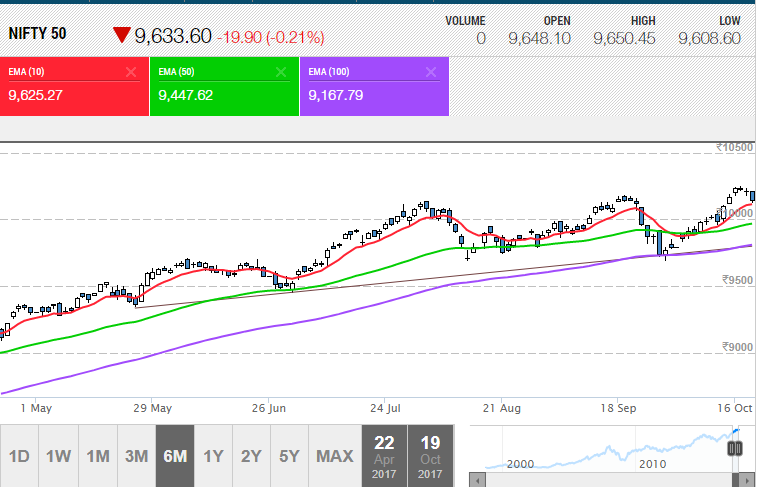 One can expect the Nifty to correct further, I am expecting sub 10,000 levels next week. To coumpound the reasoning, India Vix has risen, 7.46%, and that is always an indication that the markets are volatile, and when things go volatile, traders go bearish.
Going into FII data, on October 18.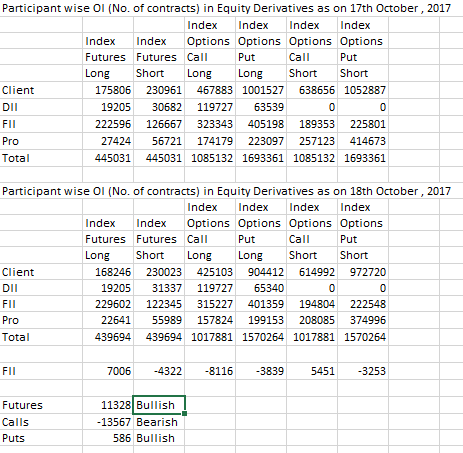 And October 19
The FIIs have adopted a bearish stance*. Even the Heikin Ashi charts have turned red.
@Lakshmikanth_Jadhav I did take your view into consideration about the interpretation of increase in calls being a bearish signal, considering stronger hands are writing them, but then it is a matter of perspective. Who are these stronger hands writing calls to satiate the FIIs. Are they stronger than FIIs themselves? That remains up for debate. At the end its a gamble. I subscribe to @haribabu's view regarding FIIs. But then I may be wrong.
Predicted Opening Next Week: Markets going down.
Disclaimer: I am by no means an expert. Please do your own analysis. I am just presenting mine for the debate.