Just when we thought the IL&FS saga in debt funds was behind us, a fresh crisis is on the horizon.
A news report that The Serious Fraud Investigation Office (SFIO) is probing a link between Essel Group and Nityank Infrapower and Multiventures for deposits of R 3000 cr post demonetization sent the stock price of Zee Entertainment tumbling.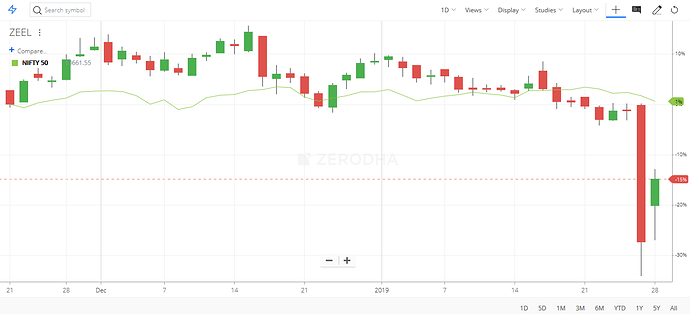 As the market digested the news, mutual funds came into the picture. Funds across AMCs have a combined exposure of around Rs 8000 cr.
More than Rs 8,000 crore worth of bonds and debentures issued by group companies are held by 150 debt mutual funds. Of this, Rs 6,329 is invested in 60 open-ended debt funds while the balance Rs 1,672 crore is in 90 fixed maturity plans (FMPs). ET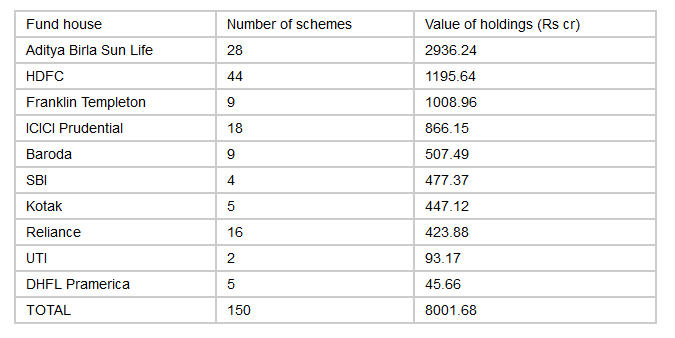 Update from Franklin India
An update on investments in Essel Group exposure
Recently there has been concern around creditworthiness of promoter financing transactions with a large reputed conglomerate. Given below is a brief note clarifying our transaction structure and highlighting credit comfort factors to investors.

Transactions backed by equity shares can be broadly classified into two categories: (i) Loan against shares financing and (ii) Holding/Operating company financing, with shares as a collateral
(i) Loan against shares financing (LAS): These debentures are collateralized by listed / unlisted shares held by the Issuer entity and/or any other third-party entities owned by the promoter. Typically, repayment for these transactions is linked to refinancing, sale of shares etc.

(ii) Holding/Operating company financing with share collateral: These debentures involve financing promoter holding/operating companies, which draws comfort from assets on the balance sheet of the Issuer apart from specific security package available to the transaction. The transaction repayment is typically linked to issuer cashflows in the form of dividends, asset monetization etc. Thus, shares pledged as collateral act as an additional comfort over and above the credit strength of the issuer entity.

Franklin Templeton has the following exposure to Essel group as of January 25, 2019, across various debt scheme that it manages. Essel Infraprojects Limited ("EIL" rated A(SO) Credit Watch with Developing Implications by Brickworks) EIL is a promoter holding company for their infrastructure businesses across roads, solar power and transmission sector.

EIL through its SPVs has completed construction of more than 2000 lane kms of road projects across states and commissioned 685 MW AC capacity of solar power projects. EIL is a holding cum operating company which carries out Engineering, Procurement & Construction (EPC) work for its SPVs by entering into back to back sub-contract arrangement. EIL has a robust business model with margins from EPC work in addition to holding substantial value in the form of operational and under-construction project portfolio through its SPVs.

Operational project portfolio provides significant financial flexibility by way of asset monetization. EIL has a demonstrated track record of raising funds by upsizing or securitization of cash flows of some of its road SPVs (Rs.680 cr in FY18). Our exposure is a holding company financing transaction where the primary source of repayment is linked to group's infrastructure businesses and is also collateralized by listed shares of Zee Entertainment Enterprises Ltd. and Dish TV India Ltd.

Our exposure to EIL should not be construed as a traditional loan against share (LAS) financing transaction as explained above. This security held by Franklin Templeton schemes is rated 'A(so)' visà-vis 'A-' for other balance sheet borrowings of EIL.

Recent updates: As per the latest announcement from the group, they are in active discussions with potential buyers for a sale of their infrastructure investments across roads, solar power and transmission businesses. As per recent rating reports, company has agreed to sell a few operating and under construction transmission assets and also the solar power business, which put together is expected to realize equity value in the range of Rs 2,000-3,000 Cr.

Diligent Media Corporation Limited ("DMCL" rated A(so)/Stable by ICRA) DMCL, part of Essel group, is in the print media business - DNA, the English Daily, is their flagship newspaper.Our exposure to DMCL is a balance sheet funding transaction backed by a corporate guarantee from Zee Media Corporation Ltd ("ZMCL"). ZMCL operates the Zee News channel which is their flagship channel.

Scheme exposure to Essel Infraprojects Ltd*, across Franklin Templeton Mutual Fund Schemes as of
December 31, 2018

Scheme name % of AUM
Franklin India Dynamic Accrual Fund 0.67%
Franklin India Credit Risk Fund 1.50%
Franklin India Short Term Income Plan 1.71%
Franklin India Low Duration Fund 4.43%

Scheme exposure to Diligent Media Corporation Ltd* across Franklin Templeton Mutual Fund Schemes as of December 31, 2018 Scheme name % of AUM

Franklin India Credit Risk Fund 0.31%
Franklin India Low Duration Fund 0.35%
Franklin India Dynamic Accrual Fund 0.86%
Franklin India Income Opportunities Fund 1.69%
Franklin India Short Term Income Plan 1.90%
*For complete name detail of the security kindly refer to the website. Portfolio holdings are subject to change.