Hello people!
My first job out of college was in options trading. I did that for another half a decade for institutions and nearly a decade-plus for myself. During this time, I stumbled upon some of the most important questions in options trading. I found myself asking these questions time and again, day after day, week after week. They went like this:
What would be my P&L if the market goes up or down 2% tomorrow?
What would I gain or lose if the market stays flat after an event?
If I buy some options on a Friday, how much will I lose if the market opens flat?
This was a problem I faced personally as a trader. Naturally, a tool to answer these questions was one of the first things we built in Sensibull. So when the folks at Zerodha proposed including this as a Widget in Kite, we jumped at the opportunity.
Finally, the day has come when we added the finishing touches to what we have been building. We are thrilled to announce the Positions Analysis Widget, powered by Sensibull - exclusively on Kite.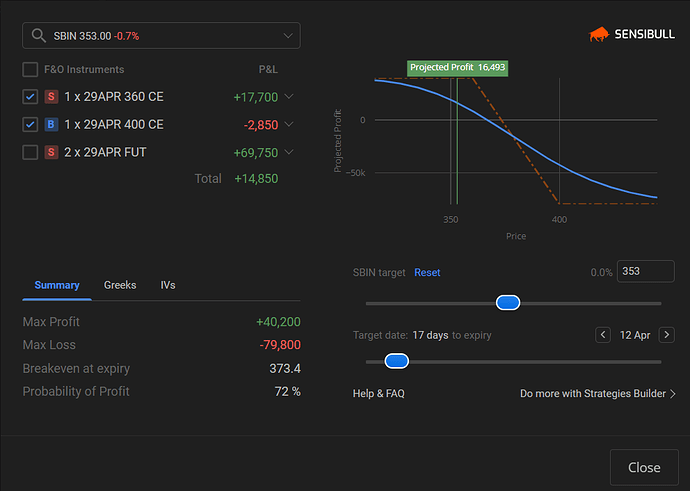 So, where is this widget?
It is in your positions tab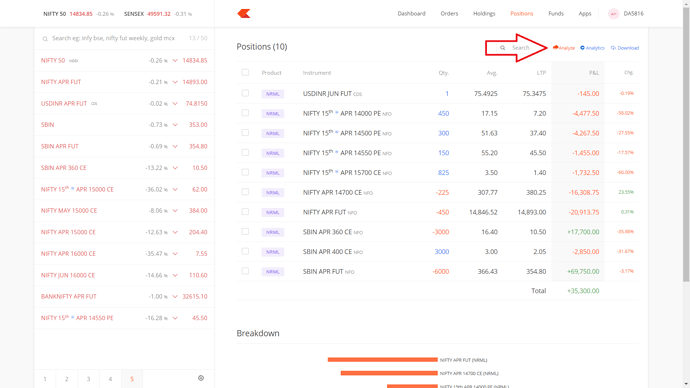 Here is the list of what you can do with this widget
Analyse your F&O and USDINR positions and basket orders
Change the stock price or your target date and see how much you will gain or lose
See Max loss, Max Profit, Breakeven probability of profit
See Greeks, play around with IVs, etc
Do all of this and more without leaving Kite! And if you want to do something fancier, Sensibull's Options Strategy builder is just one click away.
We would love to hear from you on how to make this more useful for you. Please let us know your feedback and suggestions for improvement on [email protected]
I hope this helps you be profitable in your trading
Regards,
Abid
Cofounder, Sensibull
Here is a demo video

Frequently asked questions
Is it free?
This widget is free till 30th of April, 2021. After that, we will keep the basic version free, and have a nominal charge for advanced features.
Can I analyse all trades and positions?
You can analyse almost everything in F&O. Here is the list of what we support:
Nifty and Bank Nifty Futures and Options
Stock Futures and Options
USDINR
Here is what we do not support. These will come in the "Untracked" list
Options with strikes far away from the current price
FINNIFTY
Currencies other than USDINR.
Commodities
EQ segment - Stock buying and selling, intraday or CNC
How can I access this on Kite Mobile app?
This widget is not live on Kite Mobile app yet. We will be making it live soon.
How can I analyse a basket order which I am about to trade?
How can I analyse basket orders?
Go to Orders in Kite Web.
Select the Baskets Tab
Will it work on all browsers?
Unfortunately, no. We do not support some browsers, notably Safari. We might not work well on some older generation browsers like internet explorer. We will be making it available on Safari soon.
For the best experience we recommend the latest versions of Chrome and Firefox.
I am not able to see some of my options in the analyse feature. Why?
We do not support the following instruments.
Options with strikes far away from the current price
FINNIFTY
Currencies other than USDINR
Commodities
EQ segment - Stock buying and selling, intraday or CNC
These will come in the "Untracked" list