In India, stockbrokers are required to follow one of two ways to settle balances with their clients. The balances can either be settled bill-to-bill or maintained in form of a running account with the stockbroker.
In a bill-to-bill settlement process, money receivable by a client as per each contract note is transferred to their bank account. On the other hand, maintaining a running account means that instead of funds getting settled into the bank account each time, the credit is made available in the ledger your stockbroker maintains for you. These funds can then be utilised for trades or withdrawn by placing an instruction with your stockbroker.
SEBI requires stockbrokers to settle all running account balances maintained with them at least once a month/quarter based on the agreement with their clients. Even if you have an open position or obligation, any free balance in your trading account will be settled into your bank account to clear balances at the end of the month/quarter.
The period cycle for the running account settlements started with the account opening date of the client. So, all brokers would settle funds to the clients as and when the month/quarter for the client ended. Recently, SEBI issued this circular directing stockbrokers to change this period cycle and make payments to all clients on the same day. Here is an extract from the circular: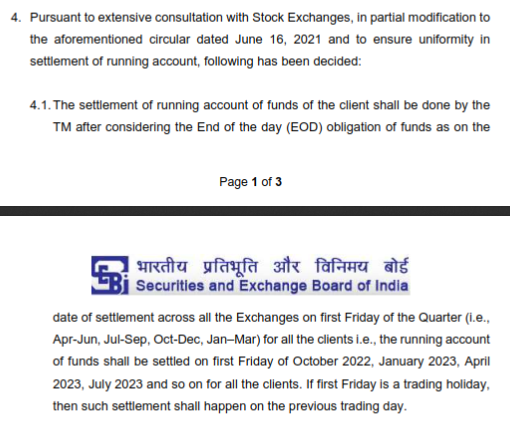 So, if your stockbroker processes the running account settlement for you once a quarter, from October 2022 onwards, the settlement for all clients of the stockbroker will have to be done on the same day. This will be the first Friday of October, January, April & July.
On October 7th, 2022 all stockbrokers in India will have to settle the running accounts of their clients. This settlement activity will test the systems of both stockbrokers and their banking partners.
To reduce the load on the systems on Friday, October 7th, we have already started settling funds for our clients who have been inactive for the last few days. We expect the clients will not need to add back funds to their trading account since they are not using it. In case the funds are added back on or before October 7th, we will again have to send the funds back on October 7th to clear the running account in compliance with the new regulation.
Further reading: NSE FAQs on running account settlement.