"New Year Greetings to all TradingQNA Users."
Wish You A Very Happy New Year All.
Hope New Year will continue the cheer in Stock Market and bring more wealth to Investors.
Happy New Year to all the fellow traders…May this year bring immense wealth and prosperity in your life!
Cheers!
Neha (www.VRDNation.com)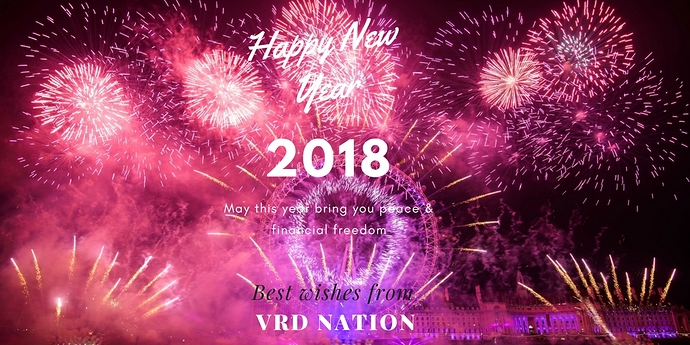 It's a stock market training institute where we train by trading live everyday (9:15-10:30 & 2:30-3:30). Basically our students are first taken through an intensive training program about the stock market strategies and then given access to Live Trading Room where they can watch VRD sir (and other pro traders) take trades in real time. The idea behind this is that there is no learning in stock market without real stakes (and putting money where your mouth is) and what's better than learning by watching someone who trades for a living.
The concept of Live Trading Room is very common is other countries like US & UK but has just getting traction in India.
Cheers!
~Neha
Visited the website, very Interesting.
BUT who is VRD ? the webisite says he studied in California and visited JAPAN.
Is he a Donald duck or a SCOOBY DOO ?
Where is this persons photo ? linkedin ? twitter ?
WHY is VRD hiding ? Is he on the RUN ?
Are you the same NEHA trolling QUORA posting links for digital blogger ?
LOOKS like a SCAM, at least has all the nature of a SCAMMER setup ?
Wow baltazar, you jump to conclusions very quickly (and that too on the thread of new year greeting) !
The website is still under construction so some of the stuff (like photos etc.) is still underway but cool off on the whole scam thing. The website should be up to date this week so just hold tight.
in the meantime, here's VRD sir's LinkedIn profile:
https://www.linkedin.com/in/venkatarao1/
Go through the above and hopefully you will have your questions answered about his education and international stints.
We are one of the handful of stock market training institutes who want to get the culture of live trading going. That is transparency at its peak -we don't hide behind the comfort of theory. We trade live in front of our students everyday and share our profits & losses in front of them. I hope you appreciate that.
TradingQnA is a great platform to share ideas and I would really appreciate if you simply asked questions without maligning someone like that. If you have some sincere questions, we conduct free webinars every week, so feel free to drop by.
Sincerely,
Neha
Too many SCAMS operating in the form of Stock Market Training in India.
It is just too difficult to judge who is genuine or not.
The blanket of doubt is over the whole Stock Market Training industry.
Glad you came in and and Furnished the info which makes a big difference to someone interested in your service.
Also pleased you proved me wrong. I like this boldness for coming forward and proving your point.
BEST WISHES
Haha …funny

Happy New Year everyone

Okay, So How much it cost to Run Business like this?
Is there any specific type of Licence is required to open Institute like this?
It looks sustainable business and Continue inflow of money in form of Fee from students.
How you guys brings Students and What about marketing? How you guys make people aware about your Institute.
I think one can make more money and very safe in Institute Business than Trading.
Our marketing is basically word of mouth from students…don't have appetite nor intent to do more than that. Trading, in itself, is a very intensive job and we trade for a living