This was the one observation that I'm sure many of us are having w.r.t VIX - Why is it low when nifty is close to breaking its yearly lows ?
This twitter thread by Vijay Thakkar has some interesting data about the same topic :
On 8th March 2022 Nifty made low at 15671.45 that time India vix was closed at 28.58

On 12th May 2022 Nifty made low 15735.75 that time India vix was closed 24.27

Today 13th June 2022 Nifty Made low 15684 and India vix closed 22.36
Does that indicate that market (esp. bulls) are comfortable going long at these levels ?
This insight by premal parekh is also very interesting :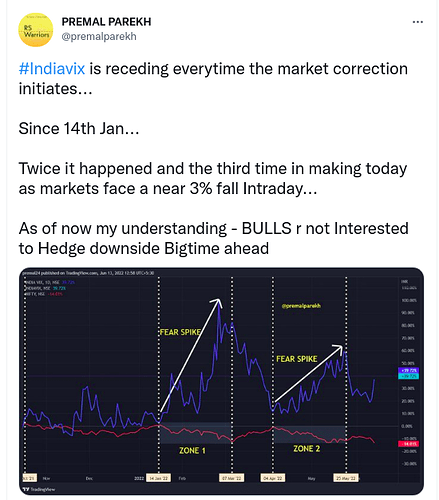 What do you think about the fear levels in the mrkt ? are ppl not worried and ready to buy the dip like the VIX is suggesting or is VIX not truly indicating the fear in the street ?