Many people are terrified right now. Stock markets were on a dream run after dropping as much as 40% in March 2020. Whatever you picked seemed to be going up. Things haven't been the same since the beginning of 2022. Nifty and Sensex are down by over 14% from the highs of October 2021, and the drawdowns are even more if you look at stocks individually.
This has changed the mood from euphoric to pessimistic. Some people are even panicked.
But there is no reason to. While for the people who started investing after March 2020, this is the first correction they are witnessing. But those who have spent time in the markets know very well that markets always go through cycles of correction. This isn't the first time it is happening and won't be the last.
Though it's easier said than done but there's nothing to panic about. Just have a look at the below chart. In the short run, markets have suffered big corrections due to one event or the other but in the longer run, they have always managed to climb the wall of worries.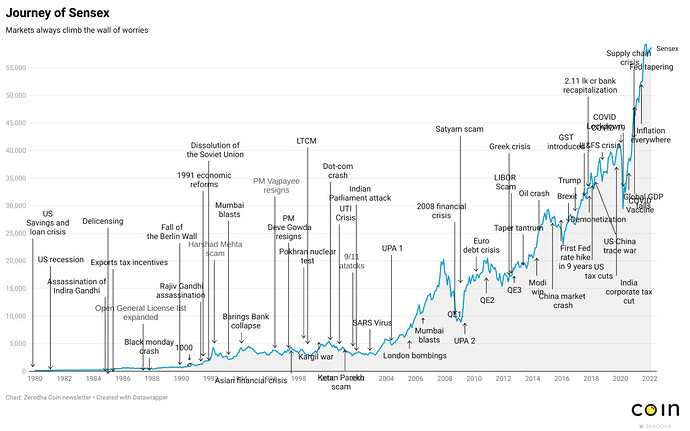 Your journey in stock markets isn't going to be smooth sailing. There are going to be many speed bumps along the way which you have to endure bravely. While it looks easy, but stock markets are the hardest place to make money.
Markets aren't just about generating returns. If you're investing in the right assets, in the longer run you will eventually get there but in the shorter run what matters is being strong mentally, If you are not, then it doesn't matter if you are the best stock picker, you are always going to get easily swayed by short-term volatility and will never manage to achieve the end goal.
As Morgan Housel put it: Volatility is price of admission. The prize inside are superior longterm returns. You have to pay the price to get the returns. Many aren't.
When markets are down there's not much you can do other than remain resilient, avoid panic and making rash decisions. What is painful in the short run is a building block for a better future.