Is there any paper trading accounts if there let me know.
Open real acc n do 1 share .thts best paper trading
I do btst in equitys I am asking for f&o to back test my strategies.
Can use Sensibull to do paper trading in options.
Should we subscribe for this and pay
Ohh good thanks for the info.
Sensibul is good. But they offer free for a limited period. After that charges apply in. And that limited period is not sufficient for learning
Are you sure sir
I just checked now it is not allowing. Please clarify
May be one can pay a little for learning if it is charged.
you need to create an account with them first. its free. then go to "Chart". there you can select stocks to trade on. they give 100000/- virtual account.
working for me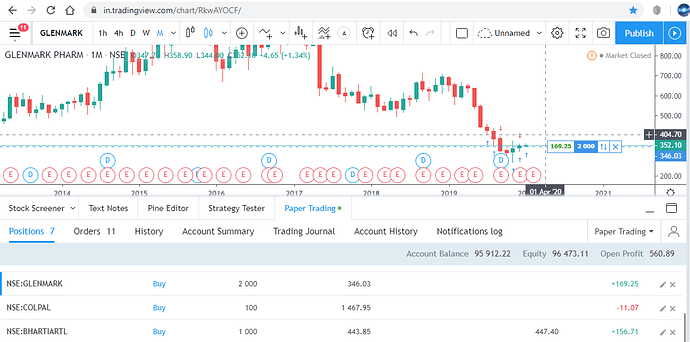 What is the best available sites for paper trading the past 2 years.
You can also try Inuvest.tech. Apart from backtesting, one could also paper trade and trade live with your broker.
Hi, What is a free options paper trading platform. I have used Zerodha (1 week free) and opstra. Since I am a beginner. I do not want to spend money to buy the subscription.
Can you suggest any free paper trading platforms for option?
Yes but its not free. But, anyway I subscribed for it.
I feel PAPER TRADING is a useless for learning , stock market is all about sitting tight in the market . I would recommend you to use real money and follow a proper risk to reward ratio . (PENNY stocks are dangerous )